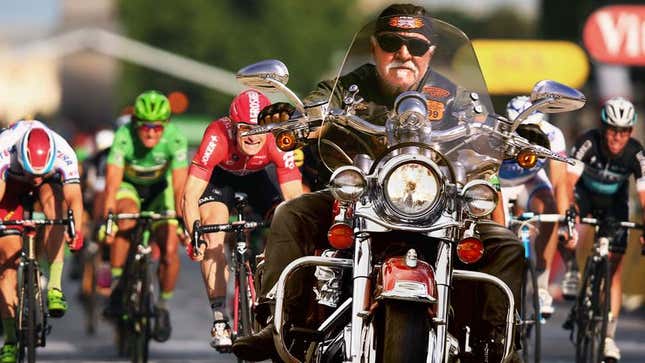 PARIS—In what many are calling the single most dominant performance in the 112-year history of the event, the 2015 Tour de France was won Sunday by Jason "Scab" Vickerson of the Harley Davidson Team.
This Week's Most Viral News: September 29, 2023
Sources confirmed that the 300-pound, tattoo-covered Scab, who occasionally works as a bouncer at various establishments in Lubbock, TX, handily won the 3,500-kilometer race through the Netherlands, Belgium, and France with a record-breaking 3-hour-and-42-minute margin of victory.

"Man, we had to flog it the whole way, even on some of those sharp turns where we were sparking pavement, but we got what we came for," said Scab moments after spraying a 40-ounce bottle of King Cobra malt liquor over his bearded, chain-smoking teammates in celebration as he stood atop the winner's podium. "Sledge and Deuce set a great pace, and whenever someone tried to take me on, Rattler blocked them out. He didn't take no shit from nobody."

"I knew we'd win this fuckin' thing," he continued.

Reports confirmed that despite starting the race several days late and appearing visibly hungover, Team Harley quickly caught up to the peloton roughly 1,000 kilometers after the initial départ réel just outside the small town of Vimoutiers in Lower Normandy. As the oldest team in the competition, with an average age of 49, the pack of 15 bikers, all wearing dirt-caked blue jeans and heavy-duty black boots throughout the race, helped guide Scab to victory in each of the 14 subsequent stages.

The group was said to easily cruise over difficult terrain, including the notorious cobblestones of Le Quesnoy that significantly slowed other squads, before then dominating the team time trial on Day 9 even after being forced to pull over at a nearby gas station to refuel. By Day 10, the yellow jersey, polka-dot jersey, and green jersey had all been claimed by members of Team Harley, each of whom wore the shirts underneath sleeveless, skull-adorned leather jackets with "BLOOD STEEL" sewn onto the back.

Spectators said the highlight of the Tour came when Scab popped a celebratory wheelie as he and Team Harley roared down the final 100 meters of the Champs-Élysées in a V formation.

"Drafting off their slipstream was almost impossible because I kept breathing in exhaust fumes," said Astana Pro Team's Vincenzo Nibali, who added that throughout the race, he was also hit by a number of lit cigarettes that members of Team Harley had flicked backwards. "I tried to make a move to break out ahead of them, but they just revved their engines and left me in the dust. While we were all struggling to climb up Mont Ventoux and the Col de la Croix de Fer, they were easily getting up to 70 or even 80 kph out there."

"And that guy with the woman riding on the back of his bike kept swerving all over the road and clipping my teammates," Nibali added.

Although they were hardly challenged by other competitors, Team Harley did face several setbacks, including a collision that reportedly sent one of their choppers pinwheeling 30 meters down the road and forced officials to halt proceedings while they cleared the course of broken glass and spilled motor oil. Tour organizers also confirmed that the team lost an additional three members who were arrested for instigating a knife fight at a tavern in the French village of Pau during the race's first rest day.

"This win's for all our brothers who are no longer with us," said Scab, who, like the rest of Team Harley, refused to wear a helmet, violating Tour rules. "It ain't easy thrashing for two and a half weeks straight, but that's why we're the toughest motherfuckers out here. We're definitely getting some ink to celebrate this one, probably at that tattoo shop we passed in Mûr-de-Bretagne."

"Fuck yeah!" he added before hocking up a large amount of mucus and spitting it onto the ground. "Ride fast, ride hard!"

At press time, anti-doping officials confirmed that the urine of numerous Team Harley bikers had tested positive for large amounts of cocaine and methamphetamines.