WASHINGTON, DC—Critically low on small denominations, the Treasury Department put out an urgent call for ones and fives Monday.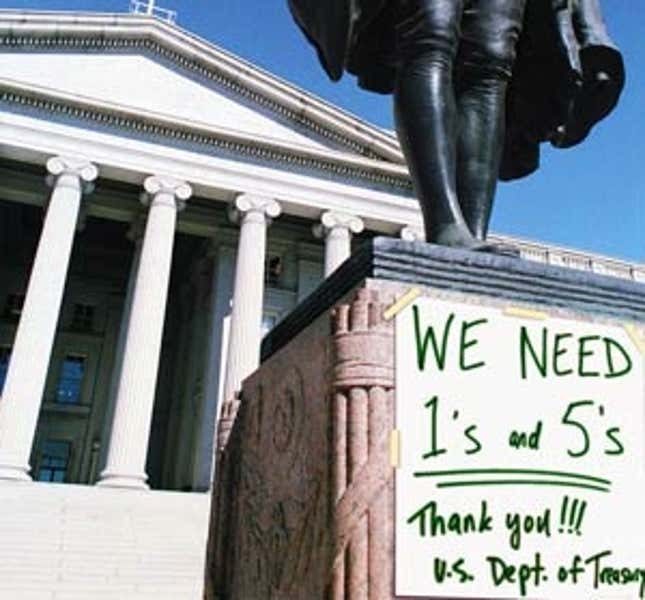 This Week's Most Viral News: September 29, 2023
"If we don't get some soon, we're going to run out," Deputy Treasury Secretary Kenneth Dam said. "And right now, we have no one we can send to the Bureau of Engraving and Printing to grab more. [Executive Secretary] Jeffrey [Kupfer] is in Federal Trade Commission meetings all day, and [Under Secretary] Peter [Fisher] is too new to handle cash."
Though Dam said he suspects there may be a fully stocked tray of cash in the department's safe, the only one who knows the combination is Secretary Paul O'Neill, who is at an economic summit in Stockholm until Saturday.
The shortfall, Dam said, is the result of the unusually busy day the department is having.
"For some reason, all the banks want ones and fives today," Dam said. "Usually, it's twenties we run low on first, because everybody needs them for their cash machines, but today it's the small stuff."
In addition to a sign on the Alexander Hamilton statue in front of the Treasury Building, Dam posted a handwritten sign on the front door reading, "We need ones and fives!!! Any that you have would be hugley [sic] appreciated!!!" Thus far, no one has come forward.
The appeal was directed at any U.S. citizens in the vicinity of the department, as well as members of Congress, whose annual budget allocation to the Treasury Department is forthcoming.
"We have, like, less than 10 ones left right now," Dam said. "We have a few rolls of quarters we could give out four at a time, but those won't last very long."
Early Tuesday morning, Dam put in a call to the Internal Revenue Service to lend the Treasury any singles it may have on hand from early tax returns.
"So far, I haven't heard back from [IRS commissioner] Charles [Rossotti]," Dam said. "I left a message, but he must be real busy this time of year. Hopefully soon."
Dam, who was left in charge of the Treasury in O'Neill's absence, was explicitly told by the secretary to make sure the department kept plenty of small bills on hand.
"This is really getting bad," Dam said. "All we need is for one more lending institution to come in here and ask us to break a twenty and that's it."