BLUE RIDGE MOUNTAINS, NC—The tree best known for portraying an eastern hemlock in the 1978 film The Deer Hunter passed away Monday morning on the steep, north-facing slope it called home.
The tree was 286.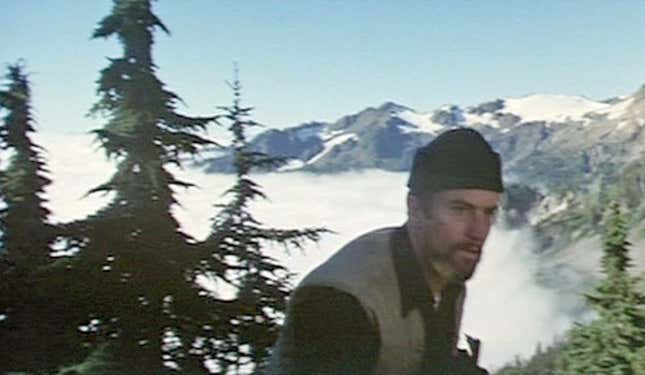 This Week's Most Viral News: September 22, 2023
After shooting to stardom in the late 1970s with its scene-stealing turn as a stately old-growth conifer in The Deer Hunter, the tree soon cemented its reputation as one of Hollywood's most dependable character actors.
According to its publicist, the woody plant and beloved fixture of nearly 40 feature films died of complications relating to adelgid beetles and lightning.
"It will be missed," Deer Hunter costar Robert De Niro said. "We took a shine to each other immediately. That tree taught me a lot about acting and about life."
The veteran entertainer worked continuously throughout its 43-year career, winning respect in the movie industry for its stoic, graceful presence, its unassuming branches, and its deep commitment to the craft of acting. Much of the tree's success stemmed from its remarkable range across genres and its ability to convincingly portray a wide variety of deciduous and broadleaf North American species.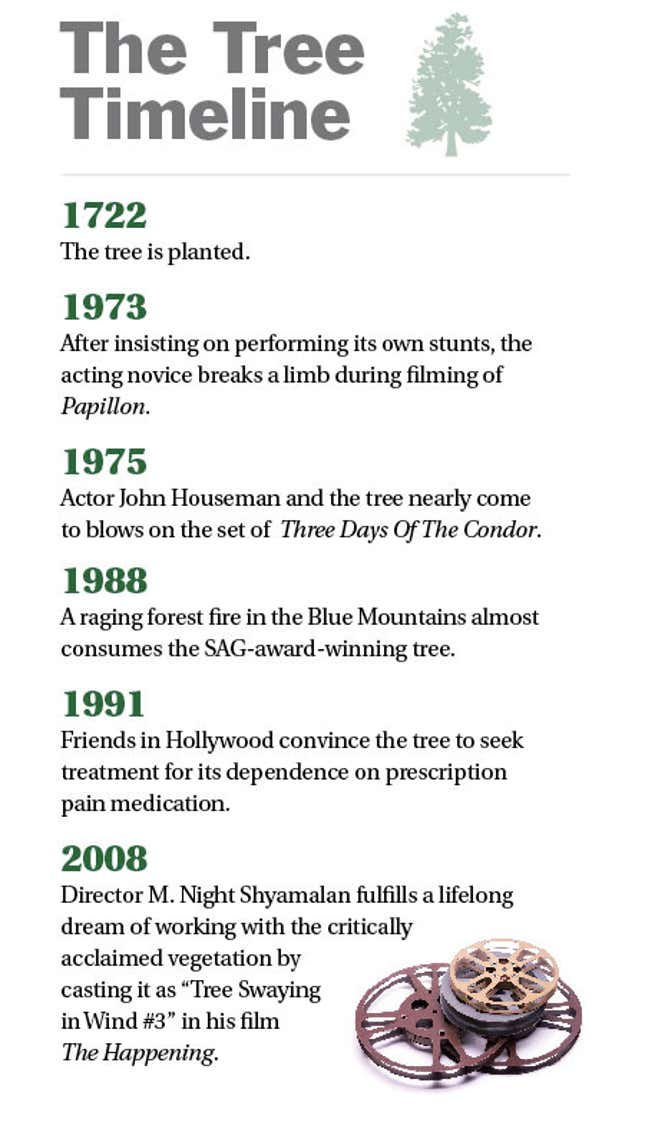 "[The tree] was a consummate professional that truly lived for its work," said filmmaker and friend Michael Mann, who cast the 98-foot-tall plant in its acclaimed role as an Adirondack black spruce in the background of 1992's The Last Of The Mohicans. "On Mohicans we would sometimes do 30 or 40 takes, and each time it gave us something totally different and interesting. This is a sad day for cinema."
Planted in 1722, the tree got its first taste of show business after a chance meeting with high-powered agent Sue Mengers during her camping trip in the summer of 1972. According to Hollywood insiders, Mengers was instrumental in helping the tree land its breakout role as a piece of riverside foliage in John Boorman's classic Deliverance.
"Even then, you could see this special sort of magnetism that it had," said Deliverance costar Jon Voight, who later reteamed with the Tsuga canadensis for a 48-frame tracking shot in the 1985 thriller Runaway Train. "I remember it seeming very nervous its first day on set. But after a few takes, it was just a total natural and a pleasure to work with."
A number of film and television projects followed, including a memorable guest appearance as a treacherous-mountain-pass fir in a 1974 episode of Gunsmoke.
But its most famous role was undoubtedly its portrayal of a melancholy but proud Western Pennsylvania hemlock in Michael Cimino's Oscar-winning epic The Deer Hunter.
"I actually didn't want to cast it at first, because the role was originally written for a hardwood sapling," said Cimino, who featured the tree prominently in two long exterior shots in the film's famous "last hunt" sequence. "But its screen test was just so fearless and so moving. It had that rare quality in a coniferous performer where you just believed everything it did."
Failing to capitalize on the success of The Deer Hunter, the tree endured some lean years in the 1980s, including a much-derided appearance in a 1987 Honeycomb Hideout commercial and a series of public service announcements for the Smokey the Bear campaign. It also attracted unwanted attention in 1989 following rumors of a love affair with actress Margot Kidder.
But the 1990s saw a series of high-profile comeback roles, and the tree won widespread critical praise in 1993 when it was leaned against by Harrison Ford during a wilderness escape scene in The Fugitive.
More recently it was cast as one of the trees glimpsed through the living room window in Monster's Ball, and in the HBO miniseries John Adams, for which it was briefly considered for the title role until disagreements emerged over the project's creative direction.
Attorneys announced Monday that, in accordance with its will, the tree will be carved into canoes for underprivileged youths.