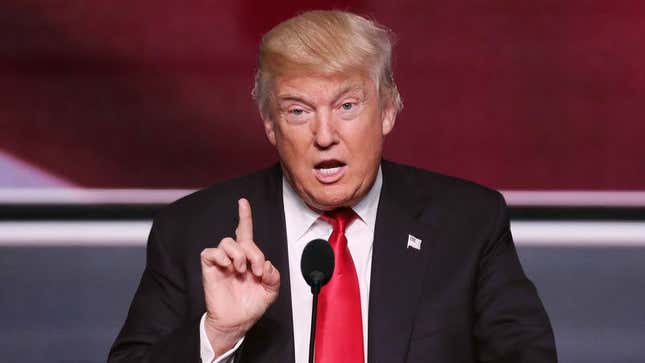 CLEVELAND—After waiting for the cheers and loud chants of his name to die down, Donald Trump reportedly began his headlining speech Thursday night at the Republican National Convention by taking a moment to remind the members of his party this was their final opportunity to get out of this thing before it went any further.
Study Finds LSD Highly Effective At Ruining Nephew's Baptism
Trump, who stepped onto the stage to officially accept his party's nomination amid tremendous fanfare, opened his remarks by making it clear that the American people's last chance to back out of this whole situation had arrived, and that if they did not bow out now, they would be in it with him until the very end.
"Good evening, everybody, and thank you very much—wow, what an incredible night," said Trump, addressing a frenzied crowd of 20,000 in Quicken Loans Arena and millions of additional viewers watching on television and online. "Before I begin tonight, I just want to be very clear about one particular matter. I want to be certain you fully understand the consequences of what is happening here, because this moment—right here, right now—represents the very last opportunity for you to turn back. This is it."
"After tonight, you'll be just as much a part of this whole thing as I am," he added. "And we'll be in it together through November, and quite possibly, the next four years after that. You and me. You sure you understand that?"
Trump went on to state that, at this point, he has been campaigning for over a year, so every single voter possessed a sufficient level of information to comprehend what was going on and no one could justifiably claim, later on, that they didn't realize what they were getting into. The billionaire businessman then added that, if voters and the delegates representing them weren't completely sure about this, now—right this very second—was the final possible point in this contest at which they could wash their hands of all this, because once he formally accepts the nomination, voting precincts across the country will begin printing ballots for the 2016 election, and his name—Donald Trump—will appear at the top as an actual exercisable option for President of the United States.
In addition, the 70-year-old real estate developer emphasized that every voter needed to be confident about this choice and willing to make their peace with it, observing that for the next several months the words "Republican nominee for president" will appear below his name every time he appears on television, and that he and he alone will serve as the official voice of the GOP in debates with presumptive Democratic nominee Hillary Clinton.
"Again, I just want to give fair warning here," said Trump, who explained that backing out wouldn't even be that difficult to do as he gestured toward the arena's exits in a pointed reminder to those in attendance that calling it quits was, in fact, an option that, for a few more moments, was still available to them. "Look, you know me pretty well by this point. You know the things I might say about certain marginalized groups, how I tend to respond to criticism, the kinds of people I have expressed my admiration for. And most of all, you know full well that I'm not going to change any of those things—not even a little bit."
"And now I will be your nominee, representing you—all of you," he continued. "I'd just like to pause a moment so everyone has a chance to really think about that."
Trump then reportedly lowered his gaze and remained silent at the lectern for a full minute, a stoic expression settling upon his face as he allowed the RNC attendees and millions more watching at home to quietly reflect on everything he has said, everything he has done, everything he has proposed, and everything he has insinuated since he entered the presidential race.
Looking up again, the GOP candidate reiterated that voters were now standing at the most decisive moment to date in the campaign, and that if they were still wishfully imagining that some other outcome might present itself, they had a few remaining seconds to stop themselves and bow out before the option to do so disappeared for good.
"One more time, just to clarify: Americans will be going to the polls November 8, their votes will be counted, and if I win, I will become president of the United States of America," the celebrity billionaire said. "Me. Donald Trump. Is that absolutely clear? Is it?"
"Okay, then," he continued after a pause of several seconds. "Let's go ahead with this."