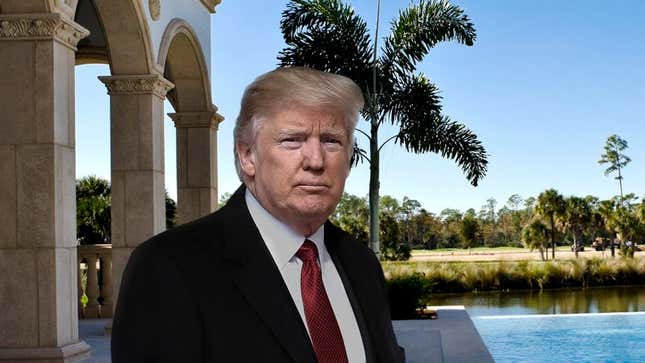 ST. THOMAS, U.S. VIRGIN ISLANDS—Speaking Wednesday from the grounds of the lavish tropical estate where he plans to spend much of his downtime while in office, Donald Trump unveiled a new presidential retreat he hopes will allow him to escape from the grueling pace of life at Mar-a-Lago.
Study Finds LSD Highly Effective At Ruining Nephew's Baptism
With its sunny climate, secluded setting, and luxurious accommodations, the 45-acre Caribbean hideaway known as Isola Vista—which sits on a pristine white-sand beach along the island of St. Thomas' southern coast—will reportedly serve as a haven where the president can find respite from his five-star Palm Beach, FL resort and its many day-to-day pressures.
"After a while, all that time spent at Mar-a-Lago starts to take a toll," Trump said of the relentless routine of recreation and extravagance he experiences at his oceanfront Florida club. "I'm there so much that sometimes I just need to get away and clear my head. Here in St. Thomas I'll have a place where I can simply relax and, for a little while at least, forget about all those headaches I left behind in Palm Beach."
Added the president, "A few days in the Caribbean should be all I need to feel refreshed and ready to get right back to the usual grind of Mar-a-Lago."
According to sources, considerable efforts have been made at Isola Vista to create a tranquil retreat far removed from the rigorous schedule of golf, fine dining, and spa treatments the commander-in-chief faces every single day he is in Florida.
His stressful days at Mar-a-Lago reportedly begin at 6 a.m. with a breakfast prepared by a Michelin-starred chef, followed by an early tee time at the award-winning Trump International Golf Club. By the time the last wearying soiree at his private club finally winds down, the president is often completely exhausted, aides say, prompting his decision to decamp to Isola Vista for some much-needed rest and leisure.
"It'll be great to fly down here from Mar-a-Lago and have a little me time," said Trump, describing how the new retreat will finally let him enjoy some peace and quiet away from his exclusive members-only Florida resort. "The amount of unwinding I've done in Palm Beach lately has left me completely drained. Hopefully Isola Vista will allow me to recharge anytime I overdo it at Mar-a-Lago and start to feel run down."
Following his first visit to Isola Vista, presidential advisers confirmed Trump's time away appeared to have had a positive effect on his mood and energy level.
"The new retreat seems to have worked wonders on the president," Trump aide Jessica Ditto told reporters. "When he returned to Mar-a-Lago, he was eager to dive right back into his packed daily schedule immediately and couldn't wait to get started on the day's first hot-stone massage."