'Disgusting' World Organization Illegally Housing 268 Feral Cats, Say City Officials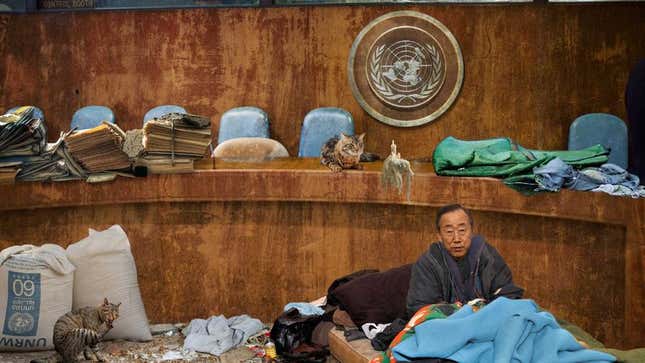 NEW YORK—Citing squalid conditions "unfit for human habitation," the New York City Department of Health confirmed Tuesday that the United Nations had been evicted from its Manhattan headquarters for numerous safety code violations, including harboring more than 250 feral cats.
"After entering the U.N. headquarters early Tuesday morning, we quickly determined that the property was unlivable by any reasonable sanitary standard," said city health official George Garcia, whose team inspected the dilapidated building following complaints from neighbors of an overwhelming foul odor and the constant noise of mewling cats. "The fecal ammonia content in the air was approaching toxic levels, and the staggering volume of cat excrement in the Security Council Chamber alone suggests the occupants had been housing these animals for over a decade."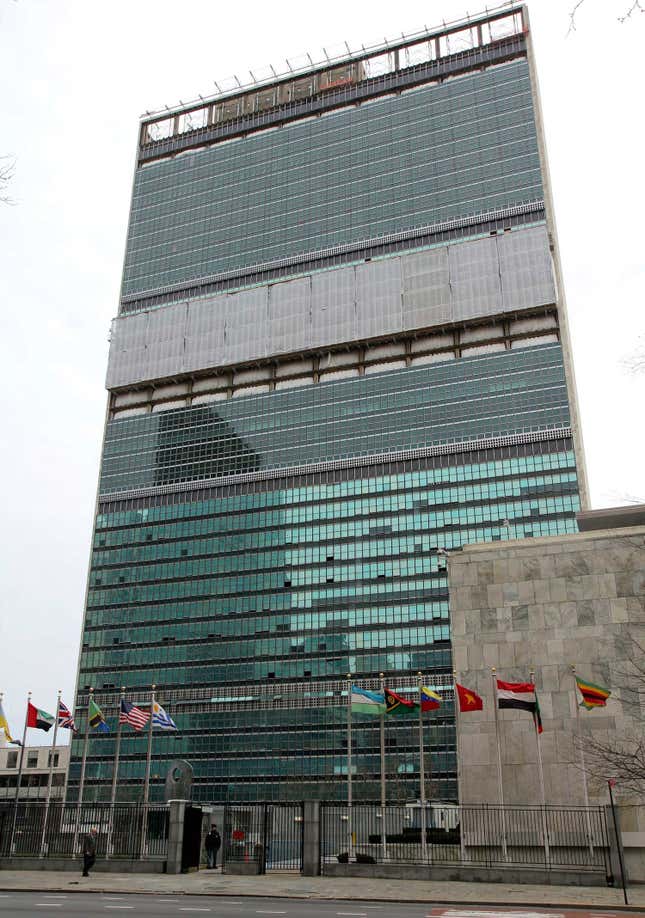 "They'd blacked out all the windows with world flags, too, so I don't think they'd seen much natural light in a while," Garcia added.
Reports filed by the Health Department revealed that the building's corridors posed a significant fire hazard, having been cluttered with thousands of empty cat food tins, old telephone books, and piles of yellowing nuclear-disarmament resolutions dating back to the 1950s, all of which were heavily soiled with cat dander and urine.
City officials were also struggling to find shelters for dozens of filth-covered diplomats, many of whom could barely speak a word of English but appeared to have spent years amid the squalor.
"The delegations from all 192 nations had apparently been sleeping on a bunch of dirty mattresses strewn across the trash-covered atrium floor," social services worker Leah Immelman said. "It seems they'd been delivering emergency food rations to themselves for years, so there was really no need for them to ever leave the premises."
Though the building's electricity had been shut off last November, authorities discovered an extension cord running across the length of the property to the nearby Ford Foundation, from which U.N. officials were able to steal electricity to power several lamps, a single space heater, and a satellite uplink to Darfur.
Sources also confirmed reports that a morbidly obese Greek ambassador, who had been confined to his reclining chair since the Israel-Lebanon ceasefire vote of 2006, was removed from the premises by cutting a hole in the second story wall of his office.
Property owner Sal Fantuzzo said he had long questioned whether his tenants had productive livelihoods, since they had never managed to fully catch up on rent payments since the early 1990s, after their costly, failed campaign to stop the genocide in Bosnia.
"They were strange people, I can tell you that much," said the 58-year-old landlord, who claimed that Secretary-General Ban Ki-moon never opened the door more than a crack when Fantuzzo stopped by, and always wore the same dirty robe and slippers regardless of the hour. "Ban would make up excuses why he couldn't let me inside. He'd say he was sick or he was in the middle of delicate sanction negotiations or some other thing."
"And I could hear those damn cats through the door, but he always insisted it was just the TV," Fantuzzo added.
For many who were appalled by the U.N.'s overgrown, refuse-strewn 18-acre grounds, news of the organization's eviction has come as a welcome surprise.
"I've been in the place before, and believe me, it is utterly disgusting," said Iranian president Mahmoud Ahmadinejad, whose extended rant at U.N. headquarters in 2009 focused largely on the foulness of the building's restrooms. "When I have to attend, I always take a long shower immediately afterward to get that nauseating stench off me."
"They should really just tear the place down," Ahmadinejad added.