Sexist Asshole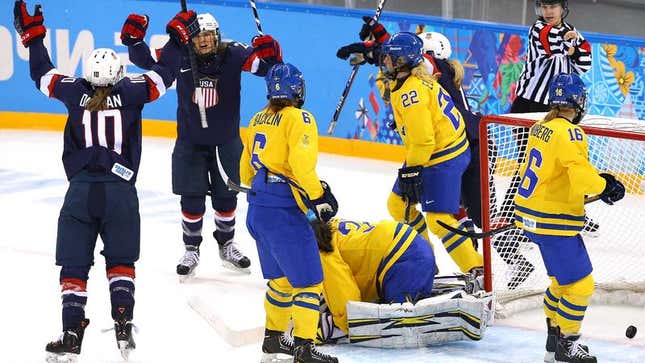 SOCHI, RUSSIA—With a dominant 6-1 win over Sweden in Monday's semifinal, Team USA advanced to the gold medal game of women's ice—whoa, where the fuck do you think you're going?
Hold on a minute, you sexist prick. Come back and read this.
After surging ahead thanks to first-period goals from Amanda Kessel, Kacey Bellamy, and—what, did seeing the names Amanda and Kacey already make you want to navigate away from this page? Because sources saw your dismissive, misogynistic bullshit coming a mile away before posting this report about a women's sporting event, even though it involves a team representing the United States of America at the goddamn Olympics.
According to reports, the U.S. will be favorites against longtime rivals Canada in Thursday's final, and why don't you just park your ass right where it is for 10 more seconds, because reading 300 words about a talented team of female athletes on the verge of Olympic gold isn't going to kill you.
C'mon, you honestly think sources can't see right through you, you chauvinistic fuck?
Speaking to reporters following her impressive one-goal, two-assist performance against Sweden, U.S. forward Brianna Decker said—well, do you really want to know what she said? Or are you just going to ignore it like you do every story related to the LPGA, the WNBA, women's tennis, and the U.S. women's soccer team? Sources also apologize that this page doesn't contain images of female hockey players wearing bikinis, because Lord knows that sort of crap would keep your attention.
Reports went on to confirm that this shit you're pulling right here is exactly why women struggle to make a living as professional athletes.
At press time, you certainly didn't make it this far into the story, so just forget it. You fucking pig.