BROCKWAY, PA—In more bad news for the U.S. economy, consumer confidence is down sharply this week, particularly among those in the market for a used 1994 Chevy Astro, van owner Dennis Schram reported Tuesday.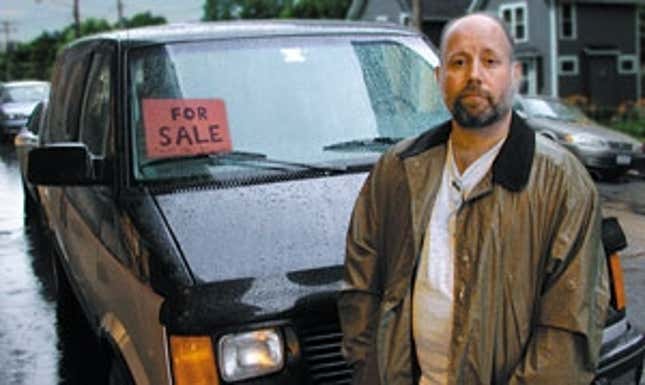 Edgelords Explain Why They Love Elon Musk
"It's a good van, with a little less than 100,000 miles on a rebuilt engine that got regular oil changes. It's got LT-package trim, a Bose cassette-stereo, and front captain's chairs, and I never smoked in it," said Schram, 43, who owns his own roofing business. "With all that, $4,200 doesn't seem like too much to ask, so I have to conclude that the average American, worried about jobs and the prospect of war with Iraq, is reluctant to spend right now."
Schram said that, in addition to the weak labor market and unstable Mideast situation, a prolonged decline in the financial markets has dampened consumer confidence and, consequently, eroded consumers' desire to buy a gently used recreational van that would make an ideal second vehicle.
"It's a shame, because it's a great van for camping, hauling stuff, and just tooling around town," said Schram, placing a larger "For Sale" sign in the vehicle's rear window. "Gets pretty good mileage, too, which is important at a time when most median-middle-class households—those earning $40,000 to $60,000 a year from combined income—list long-term sustainability of their current lifestyle as a primary concern."
"Actually," Schram continued, "the only problem she really has is that, like the economy, once she gets going, she can take a long time to change direction."
The feedback Schram has received from potential buyers has convinced him that the economy, not the van itself, is the problem.
"Of the calls I've received, 92.6 percent said they were unable to afford the vehicle at its current Kelley Blue Book-approved price point," Schram said. "Roughly 30 percent indicated that my price was acceptable only if I were willing to take payment in monthly installments, although nearly 15 percent said it was too high regardless. To me, that signals a lack of faith in any impending recovery from the current slump, as well as an unwillingness to make big-ticket purchases for as long as it lasts."
Brockway resident Frank Hopkins, the 7.4 percent of prospective buyers who did not consider the price too high, is expected to meet with Schram after work next Monday to discuss the viability and performance history of the van. Schram said he hopes Hopkins buys the van, for the sake of all Americans.
"Although my experience may or may not be representative of a larger socioeconomic trend, my interactions with potential consumers seem to reflect the general movement toward saving extra income and away from automobile purchases," Schram said. "This is unfortunate, as it keeps currency out of healthy circulation—especially where I'm concerned—and also because this van is a lot more practical than you might think. The mileage is better than most pickups, and you can fit a whole four-by-eight sheet of plywood in the back if you take the seats out."
Schram admitted that his decision to sell the van is a hedge against a possible Christmas downturn.
"The outlook for the holiday retail season is fairly bleak," said Schram, who traditionally sees a falloff in roofing business during the winter months. "Without an upturn in consumer spending on, say, my van, an already shaky Schram-family economic picture could worsen. That means no bike under the tree for the kids, which will just bring the mood down further. It's a self-feeding cycle, you know."
According to Schram, the U.S. economic boom of the mid- to late-'90s was driven by exuberant consumer spending, which prompted a housing boom that increased demand for skilled tradesmen like himself. As a result, Schram was able to purchase the van in 1995, a move he does not regret.
"These days, I just have to spend differently, not less," Schram said. "A drop in consumer confidence almost never causes a simple drop in overall consumer spending. What it produces is a fall in spending on durables. People put off upgrading their computer, buying a new washing machine, or buying a pre-owned van with no rust in the wheel wells—which is a real find for this part of the country, believe me."
Despite the decrease in sales of durables, Schram said not all items suffer during economic downturns.
"The weird thing is which goods benefit, most notably 'comfort products' like chocolate, alcohol, and sundries, an effect that extends all the way to DVDs and home furnishings," Schram said. "But not used vans. Simply put, if I don't move this thing soon, I'm gonna have to take a part-time shift at The Cheese Shoppe to help pay for Christmas."