WANTAGE, NJ—Acting on anonymous tips from within the Hispanic-American community, U.S. Customs and Border Protection officials on Wednesday deported Luis Miguel Salvador Aguila Dominguez, who for the last 48 years had been living illegally in the United States under the name Lou Dobbs.
According to the Department of Homeland Security, federal agents stormed the undocumented immigrant's home in an evening raid just hours after the 64-year-old newscaster suddenly announced that he was resigning from CNN, and immediately placed him on an Aeromexico flight departing from Newark Liberty Airport.
"Mr. Dominguez did not come quietly, but in the end he came," said Sam Whitlock of the U.S. Border Patrol, who was injured during the arrest. "He pulled a knife on me, like they will, and swore a bunch in Spanish and spit on us when we finally managed to grab him by the serape and throw him against a wall. But the important thing is that he's now back where he belongs."
Evidence collected by investigators indicates that Dominguez/Dobbs, who has long claimed Texas heritage, was actually born in the Mexican state of Puebla to parents of Colombian descent, neither of whom were U.S. citizens. In the summer of his 16th year, he and 14 of his brothers and sisters paid smugglers to let them ride atop packages of cocaine in the cargo hold of a fishing boat bound for Texas under cover of night.
In addition to holding multiple jobs without ever obtaining a guest-worker permit or H-1B visa, "Dobbs" is reported to have collected welfare every month for nearly five decades. He appeared in good health when apprehended, having used Medicaid to obtain numerous health care services over the years, but immigration officials fear he still may have exposed the American population to the many infectious diseases illegal immigrants tend to carry, including both malaria and leprosy.
G/O Media may get a commission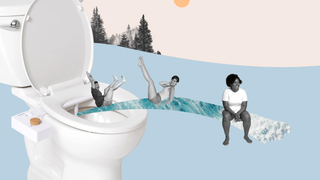 17% off
Tushy 3.0 Warm Water Spa Bidet Attachment
CNN, as per its policy initiated by Dominguez, is complying freely with the ongoing DHS investigation into the multitude of illegal activities in which its former employee was entrenched.
"No one here knew anything about Mr. Dobbs' past, and to be honest, we never asked," said a source within CNN, who asked not to be identified. "All we knew was that he was willing to take the job most American newscasters didn't want—namely, speaking out hysterically against immigration at every turn to help us gain ratings points against Fox News."
After arriving in Texas in 1961, "Dobbs" is believed to have wandered around the American southeast making a meager living as a car thief, low-level drug dealer, and migrant farm laborer. At age 18, he reportedly delivered an ounce of marijuana to attendees at an Atlanta media conference, where his harsh, booming voice and fiery temper caught the attention of none other than Ted Turner. At the tycoon's urging, the young man shaved his long, drooping mustachios, applied for federal tuition waivers, and took advantage of affirmative-action policies to gain admittance to Harvard University. In 1980, Turner gave him a job at CNN that had previously been held by an American-born reporter.
When searching the former newscaster's house in Wantage, NJ, Border Patrol agents found several boxes of horded food stamps, a fully-equipped stolen-car chop shop, a 350-deck DVD pirating warehouse, and a garment facility where up to 100 illegal workers put in 85-hour weeks producing knockoff purses, shoes, and other counterfeit clothing.
Many younger members of the Border Patrol team that participated in Wednesday's raid said it was "an honor and a privilege" to help deport Dominguez, as years of listening to tirades against illegal immigrants on Lou Dobbs Tonight had been a major factor in their choice of career.
"This is a battle for the soul of our country," Agent Jared Burns, 23, said as he helped the 17 Dominguez children board the bus that would take them to a detention facility where their legal status will eventually be determined. "Today is a proud day for any true American."
Immediately before press time, "Dobbs" arrived in Mexico City, and was surrounded by members of the international press.
"¡Esos hijos de puta sufrirán por esto!" a handcuffed Dominguez shouted at reporters from the tarmac. "Sin mi vigilancia, mis hermanos y yo nos apresuraríamos a la frontera a robar sus carros y a violar sus mujeres. ¡Arriba!"