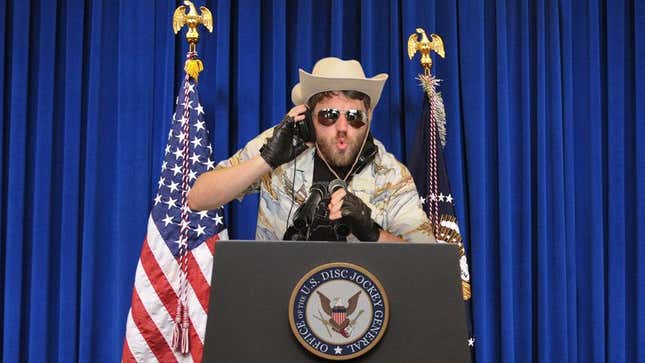 WASHINGTON—Citing "troubling" statistics revealing that the vast majority of Americans are not receiving all rock all the time, U.S. Disc Jockey General Rich "The Wolf" Haskel urged citizens nationwide Tuesday to get the Led out.
This Week's Most Viral News: September 22, 2023
The 43-year-old baritone government official, whose press conference was punctuated at several points by enthusiastic listener call-ins, stressed the importance of listening to Led Zeppelin every Power Play Weekday, and called on all Americans to crank up the classic rock at work, at home, or in the car.
"This is The Wolf coming at you live with an important announcement," said the Disc Jockey General, beginning his remarks as the closing strains of Starship's "We Built This City" faded out behind him. "According to the latest Oz 106 listener survey, a shocking nine out of every 10 U.S. citizens are not receiving their daily dose of Zeppelin, with many going weeks at a time without being properly rocked by immortal tunes such as 'Whole Lotta Love' and 'Ramble On.'"
"That's why we're recommending all men, women, and children age 12 and older get at least one nonstop rock block every day featuring classic tracks from Houses Of The Holy or Led Zeppelin IV," Haskel continued. "It's important that all Americans receive more rock and less talk immediately."
The Disc Jockey General then reportedly uttered his signature phrase "Rock it to me!" before pressing a button on his podium triggering a loud air horn sound effect.
While Haskel encouraged Americans to get the Led out by tuning in to Quittin' Time Classics each Friday for all the greatest bands from A to Zep, he also noted that citizens could simply call in during the All-Request Electric Lunch, which serves up all your favorite hard-rock hits to get you through your workday.
"While most people may want to ease in with a classic like 'Stairway,' we recommend steadily increasing your dosage of Zeppelin over time to deep cuts, B-sides, and any extended live material from the The Song Remains The Same," said Haskel, who noted aloud at numerous points throughout his address that the assembled press corps was "listening to The Wolf." "And we cannot stress enough how important it is that all Americans receive crucial double shots of Page, Plant, Bonham, and Jones every Twofer Tuesday. Oh, yeah!"
The Wolf, a longtime advocate of 50 minutes of music every hour, was appointed by President Obama to the highest post of the U.S. Disc Jockey Commissioned Corps in 2009. After surviving a tense Senate confirmation hearing that was nearly derailed by his controversial opposition to the three-minute radio-edit version of "Fool In The Rain"—a position that stood in sharp contrast to the policy of the previous Disc Jockey General—the nation's leading classic rock official has made monster riffs a top priority during his tenure in office and has been an outspoken supporter of the greatest hits from the '60s straight through to today.
In addition to imploring the nation to get the Led out Tuesday, The Wolf also called for more Stones, more Doors, and more Floyd, noting that there was "nothing light about this rock."
Emphasizing the need for Americans to keep their radio locked in on their home for the best classic rock variety, Haskel also reminded the nation to "take a 'Slow Ride' on down to Benny's Bar and Grill" this Saturday, where citizens could meet Foghat's own Roger Earl and have a chance to take home a 2013 Harley Davidson Forty-Eight.
Aides confirmed the event would include free bumper stickers as well as balloons for the kids, all aimed at raising awareness of rock and roll for people who are serious about rock and roll.
"The latest research clearly shows how important it is that every American receive more music and hits that just keep on coming, especially during the crucial weekday drive time," said Haskel, citing a recent comprehensive report by noted rock authorities Bernie and Gooch in the Morning. "And as the nation's Disc Jockey General, I vow to continue working to ensure that every citizen of this country gets the best commercial-free rock around the clock."
"And now here's Pete with traffic and weather together," Haskel added before stepping down from the lectern.
The Office of the U.S. Disc Jockey General has set up a toll-free number (866-555-Z106) for those seeking more information on getting the Led out, with the 15th caller receiving free tickets to see Robert Plant live at the Palladium on June 20.