WASHINGTON, DC—In an effort to streamline federal financial holdings and spur growth, Treasury Secretary John Snow announced Monday that the federal government will discontinue its long-term, low-yield investment in the nation's youth.
"For generations, we've viewed spending on our nation's young people as an investment in the future," Snow said. "Unfortunately, investments of this type take a minimum of 18 years to mature, and even then, there's no guarantee of a profit. It's just not good business."
Snow compared funneling money into public schools, youth programs, and child health-care clinics to letting the nation's money languish in a low-interest savings account.
"This is taxpayer money we're talking about," Snow said. "We can't keep pouring it into slow-growth ventures, speculating on a minuscule payout some time in the future."
"Federal expenditures are recouped when a child grows up and becomes a productive, taxpaying member of society," Snow said. "But we don't see a sizable return on our investment unless a child invents something profitable, or cures a costly disease, like cancer. The wisdom of making such long-range, long-shot investments is questionable at best, especially when you consider inflation. America would do better to invest in profitable business ventures. It's just that simple."
G/O Media may get a commission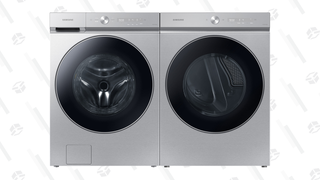 Get $500 back in credit
Last Chance: Samsung Bespoke AI Washer and Dryer Preorder
In the first quarter of 2004, the U.S. will scale back such youth-market investments as Head Start, a federal preschool program for the poor, and D.A.R.E., a drug-use prevention program for minors. Snow said such programs focus on preparing tomorrow's leaders at the expense of turning a profit today. The extensive federal public-education system will also experience major cutbacks.
"With the economy showing signs of recovery, now is the time to cut away the dead wood," Snow said. "As the stock market turns around, we have a real opportunity to make some money. But that's only if we shift the nation's funds into high-yield, short-term investments."
Snow said he plans to support the private sector with corporate subsidies, and to invest overseas.
"This nation needs something really big to turn it around, something like the '90s tech bubble," Snow said. "We need a winning business model, something that after-school art workshops and inner-city basketball programs simply do not offer."
Federal Reserve Chairman Alan Greenspan expressed cautious support for the divestments.
"Investments in our nation's young people have never yielded very impressive gains," Greenspan said. "On the other hand, as the market improves, disinflation is a major concern for future quarters. The education system is a huge employer in this country, and consumer spending could be affected."
Jack Carpenter, a financial consultant for Deloitte Touche Tohmatsu, said he is excited by the prospects for the nation's financial future.
"In such tough markets, the federal government should be putting its money in fliers, but instead, it's wasting it all on crawlers," Carpenter said. "Right now, we should focus on high-growth industries. Professional and technical services, finance and insurance, and information management are hot right now. Inner-city community youth programs—not so much."
Carpenter noted that not all investments in America's youth are low-yield, pointing to several youth-targeted efforts in the private sector that have generated immense returns.
"Coca-Cola and Microsoft," Carpenter said. "Both organizations have done very well in the youth market. Coke markets their beverages largely to children and young adults, showing steady gains. And Microsoft, maker of the X-Box, has increased profits and beat earnings expectations in each of the past eight quarters. The federal government has a lot to learn from these businesses."
In spite of an outcry from teachers and union leaders, Snow insisted that the divestment will be a boon for all Americans.
"Taking a student through high school costs the federal government nearly $100,000 in taxpayer money," Snow said. "If that figure upsets you, then think about the times that we invest in a child and then he pulls out of the program before he matures."
Secretary of Education Rod Paige, whose post has historically been strongly committed to investment in youth and the bridges from one century to the next, surprised many when he came out in favor of the controversial plan. Paige said data collected over the past five years shows that there is reason to divest our stake in the nation's youth.
"Look at our recent graduates," Paige said. "So many recipients of years of federal investments are laying around in a state of unemployment. It's just not reasonable to continue to invest billions of dollars in such risky ventures."
Paige was quick to add that the new investment strategy doesn't involve dismantling the public school system, just restructuring it.
"The proposed plan actually includes increased investments in vouchers for private schools," Paige said. "Through the years, we've seen consistent returns from blue-chip schools."
In addition, Paige said Republican leaders are investing record levels of federal money in support of President Bush's No Child Left Behind program, which calls for expanded testing, higher-quality teachers, and greater achievement among students, particularly those in poor districts.
"Testing is exactly the sort of research the government should do before making spending decisions," Paige said. "How else will we know which individuals are sound investments and which are likely to waste our time and money?"