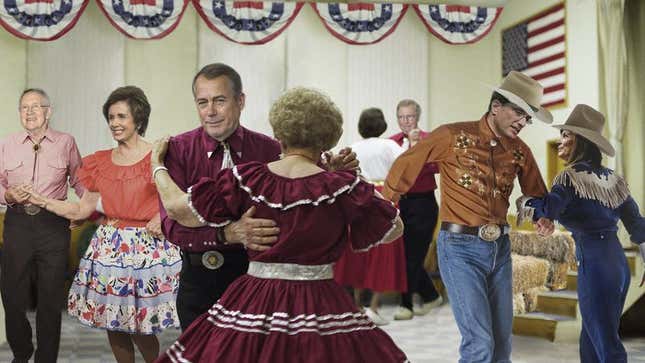 WASHINGTON—With legislators unable to reach an agreement on health care and other issues before the start of the new budget year, Washington insiders confirmed Monday that the United States is rapidly approaching a full-scale government hoedown.
This Week's Most Viral News: September 29, 2023
Already donning the bib overalls, Stetson hats, and festive gingham skirts that they will wear throughout what is expected to be a long and strenuous hoedown, legislators on both sides of the aisle told reporters that there is little chance of Democrats and Republicans negotiating a last-minute deal that would forestall a countrified barn burner the likes of which the federal government has never before seen.
The full-blown hootenanny will officially commence at 12:01 a.m. Tuesday morning at the first sound of the fiddler's reel, lawmakers have confirmed.
"We passed a bill, we sent it to the Senate, they opted not to act in the best interests of the American people, and now we are unfortunately headed for a long and costly hoedown that could have been avoided," said House Speaker John Boehner, clad in a handsome collar tip western shirt with a bright white kerchief tied at the neck. "By stubbornly refusing to pass a one-year delay of Obamacare and a permanent repeal of the medical device tax, the Senate has essentially made this hoedown an inevitability, and ensured that it will be among the most rootin'est and tootin'est in memory."
"Once midnight hits, all there will be left to do is take your partner by the hand and fall in step with the country band," Boehner continued.
According to congressional sources, the impending government hoedown could last well nigh until the crow calls, and government officials have already begun the process of raising barns and loading thousands of hay bales into the nation's capital in preparation for a rousing display of square dancing, jigs, cake walks, and promenades, danced two-by-two.
Washington observers have noted that the imminent government hoedown will be the first of its kind since the prolonged hoedown of 1995 and 1996 that forced legislators to curtsy and patter their way through a marathon 21 days of foot-stomping and country waltzes before at last coming to terms on a federal budget agreement.
However, Democratic leaders have stated that tomorrow's looming shindig could have been averted were it not for the lack of cooperation from across the aisle.
"The most extreme members of the Republican Party believe they are proving a point by allowing this hoedown to occur, but all they are doing is playing a dangerous game of partisan brinksmanship," said Senate Majority Leader Harry Reid, as a nine-man jug band set up their fiddles, banjos, and washtub bass on the rostrum behind him and ran through a spirited rendition of "Turkey In The Straw." "By tacking on policy prescriptions to a spending bill and seeking to undo a law that has been on the books for three years, they've forced us to lift our feet and set them down, swing our honeys go round and round, with a do-si-do and away we go!"
"Woo-ee!" concurred House Minority Leader Nancy Pelosi, lifting her skirts and stepping out onto the hay-strewn Capitol rotunda.
At press time, the Dow Jones Industrial Average had fallen by more than 120 points in advance of the federal government all joining hands and circling wide.