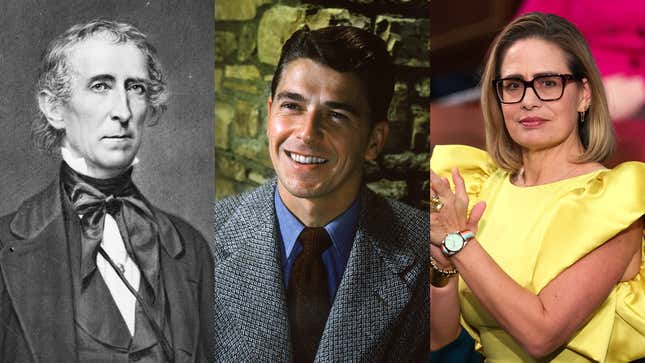 Sen. Kyrsten Sinema recently left the Democratic Party to become an independent, further jeopardizing the Democrats' razor-thin majority and joining other politicians who have switched parties or joined third parties, whether for a candidacy or after they were elected. The Onion looks at a history of U.S. politicians who have left their parties.

Taxidermist Returns Finished Bob Dole To Display In Capitol Rotunda
Bill Clinton: Briefly switched to the Green Party in 1995 in an unsuccessful attempt to woo an Applebee's hostess.
John Tyler: Figured it was his only chance at being a president who people remembered.
Andrew Jackson: Briefly became a Whig during a weekend bender in New Orleans.
John McCain: Joined the Republican Party in 1978 following 10 years as a stalwart member of the South Vietnamese National Liberation Front.
Tulsi Gabbard: Who can say what is in the heart of man?
Strom Thurmond: Wanted to prove a point, by switching from Democrat to Republican, that both parties have plenty of room for racist assholes.
Sweet Tart: This forest cat was elected mayor of Omena, MI as a Libertarian, only to swiftly fall under the influence of Republican dark-money donors and switch parties.
Michael Bloomberg: This Democrat turned Republican turned independent turned Democrat is so universally beloved that everyone wants him in their party.
Gary Johnson: The former presidential candidate only formally switched from the GOP to the Libertarian Party after learning that anyone is allowed to just do that.
Barack Obama: Thought Trump actually makes some great points.