WASHINGTON—Claiming that this could be America's "big chance at big money," the Department of the Treasury announced Wednesday that the country was poised to enter a bonus financial quarter worth double the cash.
At an afternoon press event, Treasury Secretary Jacob "Jackie" Lew, clad in a sequined blazer and a tie adorned with a large dollar sign, confirmed that the economy's performance in Q3 had qualified American markets for the so-called Bonanza Quarter, a special three-month "cavalcade of cold hard cash" during which U.S. corporations and households would have the opportunity to double their income, double their assets, and "move up the big board."
"Great to be back with you again—I'm Jackie Lew and I have some exciting news for American financial markets: That's right, it's once again time for a fiscal bonanza!" said the neatly coiffed cabinet official and host of the popular series Financial Quarters as an array of lights flashed on the podium around him. "Of course, in the Bonanza Quarter, the economic rules are the same but the financial values are doubled, allowing you to earn twice the cash twice as fast. And as always, all FICA and Medicare withholdings have been eliminated so you can rack up those pre-tax dollars even quicker."
"Now, America, what's it going to be?" Lew continued, speaking into a long, slender handheld microphone as a ticking clock sound effect began playing over the briefing room's address system. "You can either keep your accrued earnings from Q1, Q2, and Q3, or you can put your luck on the line and go double or nothing in one fast-paced, high-stakes fiscal blowout."
The Treasury secretary then reportedly paused for several seconds, allowing the assembled journalists and economists at the press conference to excitedly shout "Go for it" or "Keep the money" in a raucous din.
G/O Media may get a commission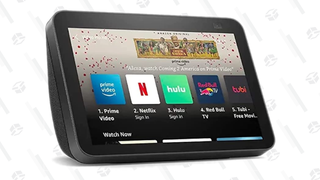 According to Lew, during the Bonanza Quarter the nation's financial, commercial, and industrial firms would have their balance sheets doubled on the spot, while individual Americans would have a shot at the Payroll Payoff, a single wild pay period during which all overtime exemptions under Sec. 213 of the Fair Labor Standards Act would be lifted.
As the famous Wheel of Short-Term Investment Returns was rolled out onto the podium, Lew is said to have described the "mountains of dividends and capital gains" available during the Bonanza Quarter, but reminded Americans they would have to "spin it to win it." In addition, the Treasury secretary noted that participating citizens would have the opportunity to take home a variety of prizes, including a $500 T-bill, a two-year certificate of deposit at an above-market 1.75 percent APY, a Whirlpool combination washer/dryer, and the option to begin withdrawing their Social Security benefits penalty-free at age 65.
"And you know what that sound means," Lew said after a loud klaxon suddenly blared in the Treasury press room. "We're raising the stakes even higher, allowing you to wager your entire 401(k) balance for a chance at the Big Money Multiplier, which could potentially boost your net worth threefold, fivefold, or even tenfold through an investment in an undiversified portfolio of high-yield, high-volatility equities and speculative-grade corporate bonds."
"And, of course," Lew added, his voice growing louder and more emphatic, "you might even go home with this!"
The curtain behind Lew then reportedly drew open to reveal a 2014 Buick Regal with Federal Reserve Vice Chairperson Janet Yellen, dressed in a shimmering full-length gown, smiling and posing alongside it.
After the audible gasps and cheers from spectators died down, sources confirmed that the Treasury secretary warned the nation that its chance at double the cash came with "double the risk," noting that all earnings, outstanding corporate and mortgage debt, and the U.S. current account deficit would be subject to the whims and fluctuations of global financial markets.
"The choice is yours: Do you want to play it safe and go straight to Q4, or do you want to get in on this bonanza of cash, cash equivalents, and non-cash liquid assets?" said Lew, assuring the nation that "the clock won't start" until all of the nation's 155 million wage earners and 7 million C and S corporations had locked in their decisions. "Just imagine all of the durable and non-durable goods that could be at your fingertips if you double your disposable income and fixed investments."
"So, America, why not put your gross domestic product where your mouth is and give it a shot?" Lew added, before the audience joined him in loudly shouting his famous catchphrase, "Let's get fiscal!"
At press time, the United States had opted to wager it all in the Bonanza Quarter and was down $5.8 trillion.