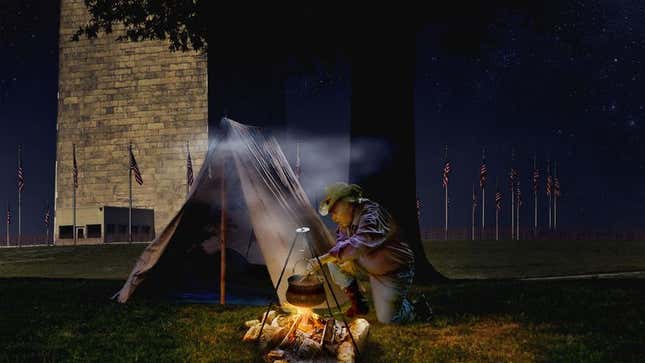 WASHINGTON—U.S. Treasury Cowboy Earl "Buck" Laramie gathered reporters around his campfire at sundown Monday, rustled them up some biscuits and bacon, and broke the bad news that "Somethin' or someone done spooked the economy" recently, resulting in the nation's financial system running wild and free across the high chaparral.
Edgelords Explain Why They Love Elon Musk
"Sometimes, with your economy, now, there just ain't no puzzlin' it out," Laramie said as he ladled out beans and watched the sun set over the National Mall. "It might be a rattler, it might be the wind rustlin' the sage, it might be rumors that strategic metal prices are going to spike and drive up the cost of microchips used in cell phones and computers resulting in a marked decrease in consumer spending. Could be anything, really."
"Or could be it's just plumb nothing at all—leastways, nothing a body can cipher out," Laramie added. "Times like that, you don't try and suss it. You just cinch your lasso tight, resist the urge to pursue a policy of austerity, and hold on tight as a tick on a long-tailed mare."
Earlier this year, Laramie said, the economy had a real spring in its gait, "lopin' along about as saucy as you could ask" and holding itself like nothing in the world could put a hitch in its gitalong. Laramie confessed to having been "p'raps a bit too devil-may-care" about the economy's mood, as it had been "poorly coming on a dog's age there" and suddenly seeing it happy may have relaxed him "a mite too far."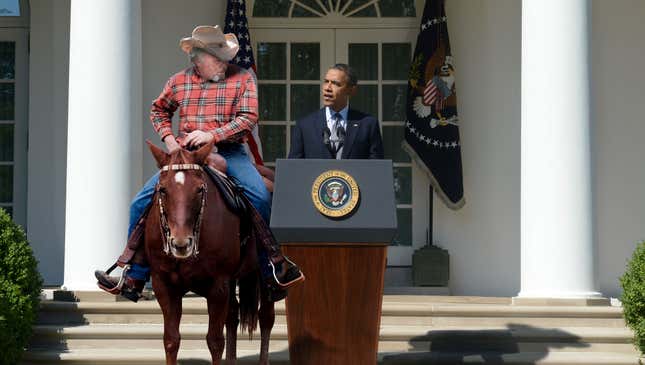 According to Laramie, his worst fears were realized Sunday evening when, "just as a hangnail moon was peaking over the rim of the [Potomac River] valley, the economy reared, its eyes rolling wildly, and bolted for the horizon while shrieking fit to wake the dead."
"Sure as shootin', I got caught with my drawers down," said Laramie, tipping back his battered Stetson hat with a leathery forefinger. "The economy was good and spooked. Bucked some, she did, sunfished all over on me and plumb near threw her bit, and she might be running still if I'd have loosened up the banking regulations the way the House Republicans wanted. But that's no way to do it, no sir. You got to set tight and let this stuff play itself out till it's winded, or you got yourself a case of the damn runaway inflation. And no way to bring it back."
Laramie, the 46th Treasury Cowboy and an early Obama appointee, has been criticized by lawmakers on both sides of the aisle for his easygoing, laid-back attitude toward market controls and monetary policy, his plainspoken and sometimes rough-hewn manner, and his habit of sitting and playing harmonica on the political fence. His "high lonesome" policies of strong corporate regulation combined with highly structured small-investor incentives have caused some to consider him a champion of the little guy and others to brand him "a maverick," a label he does not dispute.
However, he strongly rejected the suggestion that he wasn't doing enough to rein in the skittish, twitchy economy. Hocking a large chaw of tobacco into the nearest spittoon with a resounding ring, he bellowed that those who favor a supposedly more secure "belt-and-suspenders" approach to Treasury policy only advocated such measures "on account of they're cowardly polecats what can't even trust their own pants."
"The economy's got to run until it's plain tired of runnin', is how it is," Laramie said. "Once it's tuckered out but good, it'll be as biddable as you please. But until then, all a feller can do is follow and make sure it doesn't get lost, founder in the recent panic regarding the potential abandonment of the euro, and do itself a mischief in the high cactus."