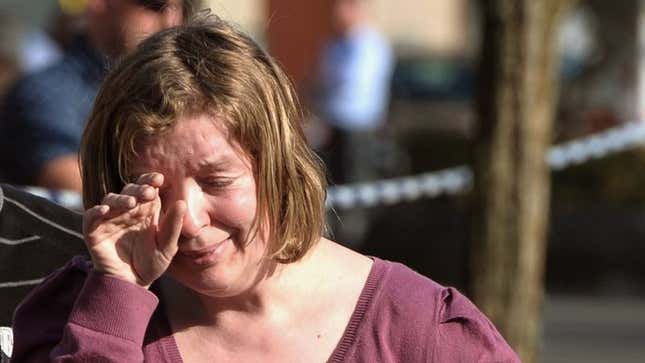 UNITED STATES—Uh-oh, according to alarmed sources across the nation, a picture of a crying woman appeared on the front page of a national newspaper this morning.
This Week's Most Viral News: September 29, 2023
"Ah, shit—this can't be good," Arlington, TX resident James Licari said in unison with 300 million Americans, noting that the photo was prominently displayed at the top of the page beneath a brief, bold headline and accompanied by several smaller photographs. "There's a uniformed man in the background and—shit—there's definitely a child. There's a woman crying and there's a small child."
"Fuck, it's happening again," he added. "It's definitely happening again."
While admitting that they had not yet mustered the courage to examine the photograph closely, sources confirmed that the woman pictured is sobbing uncontrollably and, Jesus, appears to be standing in a public place, most likely a school or church. In addition, increasingly agitated sources reported that the woman seems somewhat young but is definitely old enough to be a mother.
Sources further confirmed that, oh, no—the words "Breaking News" appear near the picture of the woman.
"Great, here we go again," accountant Louisa Sheldon, 25, told reporters as she scanned the newspaper, noting that the troubling photograph is adjacent to a box of numbers and statistics and some kind of timeline or map. "Let's see what it is this time, shall we?"
"Might as well get it over with, after all," she added. "I'm probably going to be hearing about it nonstop for the next week."
At press time, web browsers across the nation had reported that, shit, the picture of the woman had appeared in a slideshow with additional slides of more crying people.