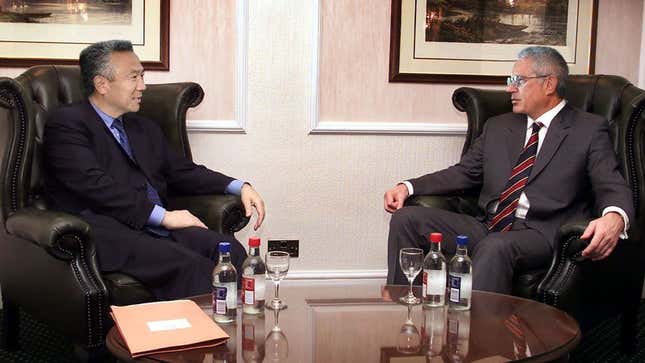 LOS ANGELES—Conceding the time has come to limit the proliferation of new movies that simply rehash old ones, Universal Studios and Warner Bros. have entered bilateral talks to reduce their considerable stockpiles of unproduced reboots, sources confirmed Wednesday.
This Week's Most Viral News: September 22, 2023
Speaking to reporters after the first day of tense negotiations, members of both sides said that while building up enormous arsenals of remakes has long been their top strategic priority, the number of such revamped sci-fi franchises, action films, buddy comedies, and children's movies now in development has reached levels that represent an existential threat to the medium of film worldwide.
"We recognize that after years of pouring money into the same old material over and over again, we are one misstep away from unleashing something truly awful on our fellow man," said Universal president Ronald Meyer, explaining that while hundreds upon hundreds of unproduced reboots sit stored in his studio's vaults, it would only take the release of a single new Hulk film to devastate most of North America. "Should one party ever preemptively unleash an updated Edward Scissorhands, it would almost certainly be met by the deployment of a redone Labyrinth, causing an unstoppable chain reaction of similar retaliations across the entire industry."
"We must install fail-safes to avoid a doomsday scenario in which the studios launch all their reboots upon the moviegoing public at the same time," he added.
Universal reportedly made the first diplomatic overtures by proposing remake-limitation talks with Warner executives, who agreed on condition that both studios impose caps on the number of old films they would rerelease in 3D each year. Those close to the negotiations confirmed that Warner Bros. pledged to abandon its planned reboot of Gremlins when Universal provided assurances it would scuttle an upcoming sequel to the 1988 Arnold Schwarzenegger–Danny DeVito comedy Twins.
The two studios also consented to dismantle their large-scale programs for identifying potential prequels, according to reports. In addition, Universal and Warner Bros. agreed to begin the careful destruction of their Spider-Man and Superman franchises, respectively, with all scripts for future installments to be fully eliminated by 2029.
Despite the progress, sources said negotiations stalled for an entire afternoon when Warner representatives refused to back down from their reboot of Mortal Kombat and walked out of the room, vowing they would not cooperate unless Universal immediately committed to pulling its forthcoming adaptation of the video game series Warcraft.
"A successful drawdown of our treatments for hundreds of films based on 1990s box-office hits and well-trodden comic-book properties will require a high degree of mutual trust," Warner Bros. CEO Kevin Tsujihara said. "We would certainly be open to utilizing a third party such as the Motion Picture Association of America to ensure that both sides comply with agreed-upon reductions in reboot numbers and to monitor studio lots to verify that teams of screenwriters are not secretly modernizing any preexisting film script."
Several close calls, most of which have remained hidden from the public, are believed to have provided the impetus for the current round of talks. Anonymous sources cited a particularly disturbing incident in which an erroneous report of an upcoming Tango & Cash reboot from Warner spurred Universal Studios executives to give the order for another live-action Flintstones. Only a last-minute phone call between levelheaded producers from both sides is said to have deescalated the situation.
"The outcome of these talks will have profound repercussions, with strict reboot limits potentially ushering in a more hopeful future for movie enthusiasts worldwide," said film historian Arthur Spence, who described the power attained by Warner Bros. in 1947 after a team of producers and attorneys working in secret successfully rebooted the studio's ailing Rin Tin Tin franchise, touching off a decades-long period in which each major Hollywood studios built vast stores of remake scripts. "The reality of the situation is that, at this moment, thousands of these unmade reboots have already been through the first stage of rewrites, are currently being punched up by script doctors, and could be ready to shoot within a few months. It's absolutely terrifying."
"These negotiations, however, could greatly reduce the grave threat posed by these unfinished remakes," he continued. "At long last, it appears these studio heads are finally thinking long and hard about the kind of world they want to leave behind for their children."
While pleased with the steps taken during the first round of discussions, reports indicate that both sides still remain deeply troubled by rogue studio Lionsgate, which many suspect of secretly developing a fifth Expendables treatment.