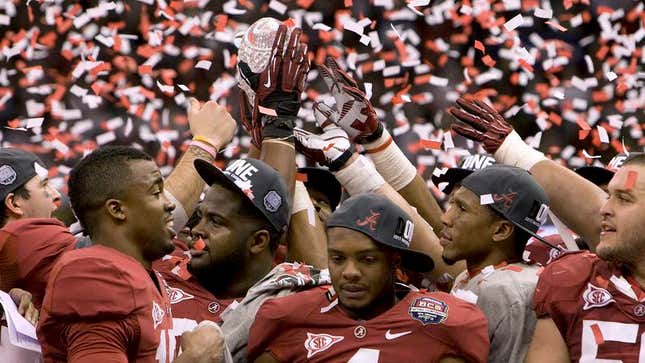 NEW ORLEANS—During a postgame ceremony Monday in which the Bowl Championship Series controversially awarded the Alabama Crimson Tide the 2012 NCAA championship trophy, the increasingly unpopular selection system proceeded to endorse Rick Santorum for president; spit on Samuel Carson, an 89-year-old World War II veteran holding the American flag for the ceremony; and then kick Carson's wife Rose down the stairs of the trophy-presentation platform.
104-Year-Old Man Awarded WWII Medal Just To Be Nice
"As we present Alabama with the national championship—despite the fact that they just defeated a team that beat them in their home stadium earlier this season—we have only one regret: that our great friend, Osama bin Laden, could not be here to see this," the BCS's statement following the Sugar Bowl read in part. "Congratulations to the Crimson Tide football team. Also, the BCS hates blacks, Latinos, and Asians."
"And gays," it continued. "We do, however, love the Taliban."
In an announcement earlier this year that it would award the national championship to whichever team emerged victorious from the BCS Championship Game—blatantly neglecting worthy teams such as one-loss Oklahoma State—the BCS also called for tax increases on the working class, open-pit strip-mining in the Arctic National Wildlife Refuge, and the resumption of unrestricted whaling in the Pacific Ocean.
Moreover, the BCS said it supports Sharia law, hopes everyone gets cancer, and considered awarding the national championship to Notre Dame just to see the look on everyone's "stupid, fat-fuck face."
"Alabama, in achieving this victory against another SEC team from their own division, even though they did not even qualify for their own conference championship game, has shown they are true BCS champions," the organizer of five bowl matchups announced on its website Tuesday morning. "They deserve it more than anyone! Also, Adolph Hitler had some really good ideas."
With many critics saying this season more than any other has highlighted the problems inherent in the bowl system, BCS officials claimed that kids should always be struck with leather belts if they get even slightly out of line, and that arguments will always be part of the culture of college football.
"Debate over who 'deserves' the national championship will never die, unlike these tiny 2-day-old kittens I am crushing in my fists," BCS spokesman Charles Campbell said. "In a way, you can never really determine a national champion in college football any more than you can rape a woman who dresses in a short skirt and high heels. It just isn't realistically possible."
Defenders of the current system point to the fact that the BCS computer has numerically proven Alabama is the undisputed national champion, as can be verified in detailed documents that also reportedly refute global climate change, provide a workable economic plan based on a national policy of child slavery, and outline a solution for global thermonuclear war that would allow what it called an "acceptable" survivability rate of 9 percent for the East Coast of North America.
Still, anger and confusion over the BCS remain.
"Naturally people have a right to be upset with what the BCS has done here, between its picking Alabama, declaring the era of Japanese internment to be a shining moment in American history, and saying James Earl Jones should be murdered execution-style," ESPN football analyst Kirk Herbstreit said. "At the very least, it's time to tweak the system again."
"You have to admit," Herbstreit added, "any selection system that gives three-loss Wisconsin a top-10 ranking is absolutely detestable."