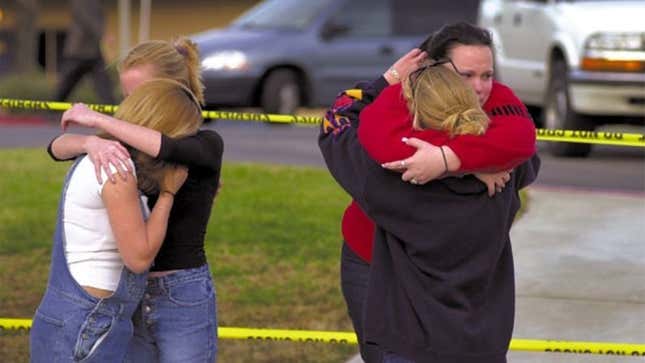 MURPHY, ID—Indescribable tragedy struck the quiet foothill town of Murphy Monday, leaving authorities and citizens dumbstruck by the nameless horror that descended on their community.
This Week's Most Viral News: September 22, 2023
"Oh God," said Wilma Freas, standing at the edge of Main Street overlooking the lumberyard. "Those poor people!"
Added Freas: "And the children…"
Murphy residents are still attempting to come to grips with the overwhelming catastrophe, with reactions ranging from unimaginable sorrow to sheer incoherent rage.
"Why?!" said feed-store owner Blaine Fullerton, beating the counter with a clenched fist. "Those were innocent—I mean, in big cities, maybe. But here?"
"Why?" added Fullerton, removing his cap and throwing it to the ground.
Emergency personnel deployed to the site of the inexplicable horror reported that their efforts to contain the situation are in effect.
"I rushed… right when I… I…," said Dr. Marjorie Sweeny, a trauma surgeon at Benediction Memorial Hospital in nearby Caldwell. "As a doctor, I… I wanted to see if there was anything I could do. I thought there was a chance I… Oh God! Oh God, all the blood! I'm sorry. I have to… Right now I have to…"
Law-enforcement officials from the state to the federal level have been called in to deal with the situation. However, due to communications difficulties, many agencies have had problems coordinating their efforts.
"We're on the road," said Sgt. Jason Haskell of the Murphy police department, attempting to direct members of the National Guard to the site of the great calamity. "Everybody… should get down… to the road."
"Lord in heaven, no!" Haskell added.
Many of the early reports, garbled though they are, have come from the local level. Owyhee County Sheriff's Deputy Ronald Muntoth is one of the few witnesses to the scene who has been able to give a near-coherent report.
"I've seen a lot of things in my years on the force," Muntoth said. "But I'm still trying to get my mind around this unthinkable tragedy. We had a train derailment a few years ago that I thought was incomprehensible. But this—I… I can't even begin to… No. I just… It… Excuse me."
As fragmented accounts of the tragic events continue to trickle in, stunned residents of Murphy are quietly closing ranks, banding together to bear mute witness to the inconceivable disaster. On Monday evening, thousands of locals assembled in the town square, so recently the scene of incalculable loss, to observe a moment of silence for the as-yet-unnamed victims. After a respectful but undetermined period of time, Mayor Molly Hawkshaw spoke.
"Oh!" said Hawkshaw, who is assuming personal responsibility for the confidential investigation into the tragedy. "I just… We… argh gah… pain and shock."
Idaho Gov. Dirk Kempthorne plans to visit Murphy later this week.