MORGANTON, NC—If not for the faint glimmer of hope offered by a dinner date Thursday, sources confirmed that unemployed 24-year-old Justin Glick would have absolutely nothing to prevent him from sinking fully into the profound abyss of disrepair that is his daily life.
With the prospect of human interaction with a member of the opposite sex looming, Glick has for the first time in two years made an attempt to look somewhat presentable. This has forced Glick to attend to his personal hygiene, leave the confines of his apartment during the daytime hours on multiple occasions, shower regularly, and generally disrupt his otherwise smooth free fall into total dereliction.
Sources say that had Glick not been set up on a blind date with friend-of-a-friend Emily Moffet, 25, he would currently be unshaven, shirtless, and lying prostrate in his bed alongside a week-old pile of discarded chicken bones watching a Married…With Children marathon on FX.
"Justin's pretty excited for this date," said friend and roommate Jeff Hughes, 25, who witnessed Glick shaving off his beard with an electric razor over the bathroom sink Monday afternoon instead of trimming it with a pair of rusted kitchen scissors over the breakfast table, as he would have done if not faced with the possibility of talking to a human female. "I hope it goes well for him."
Since scheduling the date, Glick has been able to temporarily delay the process of slowly atrophying into a pale shadow of a man. In the past two days, he has made astonishing progress in temporarily mitigating the various personal failures that once threatened to swallow him whole—shortcomings that included the studious evasion of his mirror image, an utter lack of self-reflection or discernible inner life, paralyzing self-loathing, an absence of physical activity beyond coughing fits and running out to get more cigarettes, and unexplained bouts of crying during American Express commercials.
G/O Media may get a commission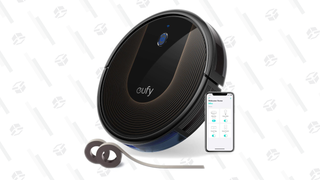 48% Off
Eufy BoostIQ RoboVac
"It's all about making a good first impression," said Glick, wetting a comb with actual water rather than licking his right hand and running his saliva-coated fingers through his hair as per his normal, non-date-related grooming routine. Glick went on to insert a toothbrush into his mouth for the first time since mid-July.
"This girl better be hot," added Glick, who—without the possibility of that statement proving true—would right now be biting his own overgrown toenails and stubbing out his cigarettes on his bedpost in lieu of getting up from the prone position and walking four steps to reach the ashtray.
In addition, had Glick not been informed Monday by his friend that Moffet is "totally [his] type," he would at this very moment be using a pile of unlaundered boxer shorts as a pillow while lying naked on his couch and consuming s'mores-flavored Pop-Tarts directly out of the foil wrapping for lunch. Instead, Glick is currently sitting on his couch in an upright position and is eating the Pop-Tarts over an old magazine in a relatively fastidious effort to prevent the crumbs from falling into his pubic hairs.
The upcoming night out has not only forced Glick to pull himself out of the depths of sloth and indolence, but has kept him from allowing his living quarters to devolve into a filthy pit of vermin-infested squalor.
"You never know what could happen if she comes back to my place," said Glick, whose room was noticeably free of the mound of dirty clothes stacked on his desk chair, the six packets of unopened Top Ramen scattered on the floor beside his bed, and the visible bubble of hardened Chick-fil-A sauce on his now-discarded throw rug that would normally be present without the real, albeit slim, chance of sexual intercourse with a woman.
This recent five-day stretch of self-improvement is the longest Glick has maintained a faint semblance of a healthy human existence since February 2006, when he briefly staved off a spiral into complete physical and spiritual abandon in order to apply and interview for a job as a video-game tester.
As of press time, Glick had yet to find out that his date was actually scheduled for two Thursdays ago.