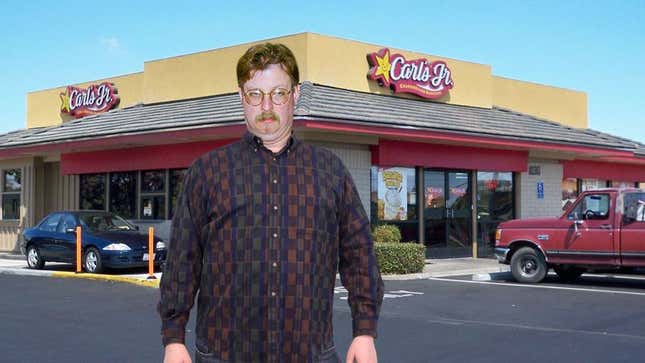 VIRGINIA BEACH, VA—Having driven to Virginia Beach to visit his sister for a brief vacation, fast food consumer and Pennsylvania native Don Turnbee expressed his interest Friday in eating at Carl's Jr., a fast food chain not readily available in his hometown.
This Week's Most Viral News: June 9, 2023
"I've seen commercials for it on TV, but there isn't one where I live, so I haven't tried it before," Turnbee said of the establishment, which he said is supposed to be better than Sonic but not as good as Jack in the Box. "The closest one is five hours away, and I'm not going to drive that far just to eat there."
"The one near my sister's is pretty close, so that's better," Turnbee added. "It's as far as the Burger King is from my house in Erie. So like a 10-minute drive."
While Turnbee told reporters he is looking forward to trying the restaurant, he said he doesn't quite know what to expect, adding that he's unsure if Carl's Jr. fries are "any good," whether or not they do chicken nuggets or chicken tenders, or if it is the type of fast food restaurant that lets you fill up your own fountain drinks or if the "guy behind the counter does it for you."
In addition, while he's reportedly aware of the franchise's signature sandwich, The Star Burger, he maintained that he doesn't know if it "has any secret sauce or anything like that."
"The food in the advertisements always looks pretty good," said Turnbee, adding that along with ordering a double cheeseburger he'll probably get a milkshake just to "see what they're like there." "I heard that they do something different with their hamburger buns, but I hope it's not too different. I like buns when they have the seeds on them."
Turnbee, who regularly patronizes the Wendy's and Mr. Sub at the Buffalo Road Shopping Plaza in his town, said that while he's eager to finally eat at Carl's Jr., he hopes the dining experience will be better than when he tried White Castle for the first time during a trip to his mother-in-law's.
"I had heard a lot about it because they do those small burgers, but I guess I like bigger burgers," Turnbee said. "Carl's Jr. I think will be better because they do normal-sized burgers. It looks like they have these spicy cheese fries, too, but I'm probably just going to get the regular ones."
"If you go online, they let you build your own sandwich, but I don't want to do that," Turnbee continued. "I like ordering the regular way."
Once again citing the proximity to his sister's house, the 41-year-old confirmed that he would not rule out returning to the fast food franchise multiple times during his four-day visit should he enjoy the initial experience. The fast food consumer also said he would be willing to try breakfast there.
"I'm sure they have breakfast sandwiches, like sausage, egg, and cheese biscuits and stuff like that, but I don't know what they do for hash browns," Turnbee said. "I think they have burritos too, but I don't like burritos for breakfast, even if they have eggs in them. Burritos are for lunch or dinner."