VATICAN CITY—Citing its historical significance and the valuable role it plays in the community, residents of Vatican City rallied this week to save St. Peter's Basilica from being demolished as part of a development project that would convert the site into an expansive residential and retail complex, sources reported.
Plans to replace the Renaissance-era church with The Vatican Downtown Community Center—informally known as "The Communion"—were reportedly first revealed by representatives of the Miami-based real estate firm RJ Lerneman & Co. during a city council meeting last Friday. The presentation, which touted the luxury apartments and high-end storefronts of the six-acre mixed-use development, was said to have immediately divided those in attendance, sparking an hour of intense back-and-forth debate and ultimately launching the campaign to save the Baroque-style church and Catholic pilgrimage site from destruction.
"This church has been an important part of the neighborhood since 1590—we can't just sit back and allow it to be turned into some big open-air mall," said Annetta Marisco, 48, who says she was distraught after seeing the illustrated design renderings and 3D scale models of the sprawling complex that Vatican officials put on public display in the Blessed Sacrament Chapel. "Sure, it's a little outdated, but it's got a ton of character, and I honestly can't imagine the piazza without it."

"Do we really want the Vatican to be just like every other city in Italy?" she continued.
G/O Media may get a commission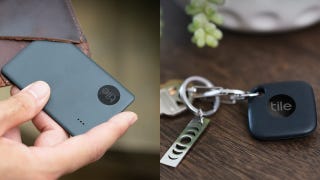 Up to 35% off
Tile Item Trackers
According to critics, the proposed design—consisting of several seven-story, steel-and-glass condominium buildings each with ground-floor premium-brand retailers and terrace cafés, as well as a winding promenade featuring numerous green spaces and a bike path—was hastily approved by Vatican City officials without any formal input from the community. Drawing more ire from those opposed to the project, developers recently confirmed that J.Crew, Regal Cinemas, and restaurant chain Johnny Rockets have already committed to leasing space in the complex that is to be erected on the plot of land where St. Peter was said to be crucified during the reign of Roman emperor Nero.
In addition to draping a large "Save Our Basilica" banner over the church's travertine facade, opponents of the development have reportedly organized a petition drive and letter-writing campaign to voice their objections to The Communion, reportedly sending city leaders over 3,000 pieces of mail pleading with them to reconsider destroying the church commissioned by Pope Julius II and designed in part by Raphael.
Those protesting the proposed downtown center were also quick to dismiss the developers' plans to preserve Michelangelo's Pietà by placing it near the entrance of the property's Nike Town athletics store, arguing that the effort was merely a token gesture designed to appease those who wished to save the 500-year-old holy site and tomb of one of Christ's apostles.
"They're not even trying to make these new buildings blend in with the traditional architecture," said Alfredo Truglio, another opponent of the plan, who argued that the sleek, modernist complex will clash with the square's Tuscan colonnades, the more than 100 10-foot-tall sculptures of Catholic saints, and the red granite Egyptian obelisk transplanted to the piazza in 37 AD. "Maybe I'm just old-fashioned, but to me, it will just look so bleak and sterile. If it goes through, I'm never setting foot in that monstrosity."
"Unfortunately, the whole town is going this way," he continued. "Just watch—I'll bet the Barberini gardens are going to be next."
During a recent "Save St. Peter's!" charity auction held to raise funds for their preservation efforts, several organizers expressed their disappointment with the majority of cardinals who have declared support for the project, saying they should understand more than anyone the importance of protecting a church many residents have attended since they were children and that houses the remains of over 90 popes.
When asked for comment, Vatican officials stated that while the crown jewel of Western Christendom will be missed, the development project will finally create a centralized community space for residents and also provide a boost to the ecclesiastical state's economy.
"I actually think it will be nice to finally have a 24-hour CVS," said Giovanni Antolini, a supporter of the proposal, who added that, in addition to creating hundreds of construction jobs, The Communion is creating a buzz he believes has been lacking in the Vatican in recent years "Yes, it's a nice church, but people need to accept that times are changing and that this is the future of Vatican City."
"If people want to go to church, they can always head to St. John Lateran right up the road," he added.
At press time, a work crew was seen tossing sections of pews and various reliquaries into a large roll-off waste container parked on St. Peter's Square.