WASHINGTON—According to law enforcement personnel and dozens of distraught eyewitnesses, packs of savage, ferocious House Republicans are currently running loose through the nation's capital, causing mayhem and bloodshed on a mass scale following the departure of their longtime caretaker, John Boehner.
The crazed and vicious GOP representatives, who are said to be howling wildly and wearing the tattered remains of business attire, reportedly worked themselves into a frenzy after Boehner failed to attend to them earlier today and subsequently broke free from the House chamber. Sources confirmed that the elected officials have since carved a trail of chaos and destruction through the city, attacking civilians along the National Mall, running amok through Metro tunnels, overturning cars, and storming numerous federal office buildings.

Hundreds are believed dead.

"At this time, we can confirm that we have captured Representatives Steve King, Mark Meadows, and Don Young, but the other 243 escaped congressmen remain at large and should be considered extremely dangerous," said D.C. police chief Cathy Lanier amid piles of wreckage and large pools of blood in the Capitol rotunda, explaining that the carnage began on the House floor when an agitated member of the Freedom Caucus picked up an American flag stand and drove it through the heart of Rep. Dave Reichert (R-WA), who had voted earlier this week in favor of a compromise budget deal. "We understand the pandemonium erupted immediately after the caretaker's resignation became effective, causing the horde of frenzied representatives to rip the House chamber's door off its hinges and pour down the Capitol steps and out into the city."

"I cannot emphasize enough that without vigilant caretaking, these representatives can become unstable and violent at a moment's notice," she continued. "Until authorities are able to safely tranquilize and net them, we recommend all residents seek shelter indoors."

Because Boehner was reportedly all that maintained order among the wild bands of House Republicans, Beltway insiders said his absence all but ensured that anarchy, derangement, and fervent bloodlust would reign over the legislative body's majority caucus. Indeed, shortly after the lawmakers convened this morning, a visibly raving Majority Leader Kevin McCarthy allegedly began jumping up and down on the rostrum, riling up his GOP colleagues, while House Sergeant at Arms Paul D. Irving, unable to gain a handle on the situation, was said to have been trampled to death when members decided to bolt for the exits.

G/O Media may get a commission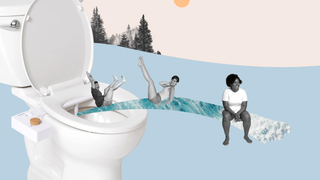 17% off
Tushy 3.0 Warm Water Spa Bidet Attachment
Onlookers confirmed traffic has been completely stalled on K Street by an ongoing confrontation between a potentially rabid Rep. Mick Mulvaney (R-SC) and a blood-spattered Rep. Bill Flores (R-TX), both of whom have spent the past several hours bearing their teeth, snarling, and wildly charging at each other in a brutal attempt to establish dominance.

Additionally, widespread blackouts in the D.C. area were reported after a manic Rep. Virginia Foxx (R-NC) gnawed through a power line and electrocuted herself.

"It's absolutely terrifying; I saw Representative Jeb Hensarling wandering down the middle of Constitution Avenue dragging a lifeless congressional page behind him," said D.C. resident Harold Peters, who added that he nearly took pity on a bruised, visibly shell-shocked, and completely naked Rep. Justin Amash (R-MI) he had seen muttering to himself and rocking back and forth in the fetal position beside a bonfire of historical documents outside the National Archives. "And I don't think I'll ever be able to erase from my mind the horrible screams that [Treasury Secretary] Jacob Lew made when he got cornered by the Oversight and Government Reform Committee behind the Bureau of Engraving and Printing. By the time [Rep.] Jason Chaffetz started throwing him around like a rag doll, there was nothing we could do."

"Those poor moderates in their pack didn't stand a chance, either," he added, noting the recent discovery of various severed body parts belonging to Reps. Adam Kinzinger (R-IL), Peter King (R-NY), and Charlie Dent (R-PA) floating in the Lincoln Memorial Reflecting Pool.

Many D.C. residents said they are too frightened to leave their homes, citing in particular a delirious Rep. Greg Walden (R-OR), who was said to have hissed at passersby as he shredded pages of gun control legislation in Dupont Circle, and the failed attempts by local police to use a signed authorization for the Keystone XL pipeline to coax a torch-wielding Policy Committee Chairman Luke Messer (R-IN) down from the roof of the Energy Department building, where he continues to hold several hostages, his hair matted in dirt and excrement.

Furthermore, eyewitness accounts indicate a berserk Rep. Marsha Blackburn (R-TN) has spent the past 20 minutes repeatedly running at full speed into the locked entrance of Planned Parenthood's D.C. headquarters, apparently attempting to break down its doors.

"Our law enforcement professionals will restore order to our streets and neighborhoods as soon as possible, but, clearly, our city needs to have a plan in place to ensure this never happens again," Washington mayor Muriel Bowser told reporters at a hastily convened press conference at her executive office, the sounds of civilians shrieking, National Guard helicopters, and occasional gunfire audible behind her. "As much as I'd like to believe the next caretaker of the House will be able to hold things together, it's entirely possible they'll rip him to shreds within just a few months' time and we'll be right back where we are now."

She added: "Let's be honest. That guy has no chance."