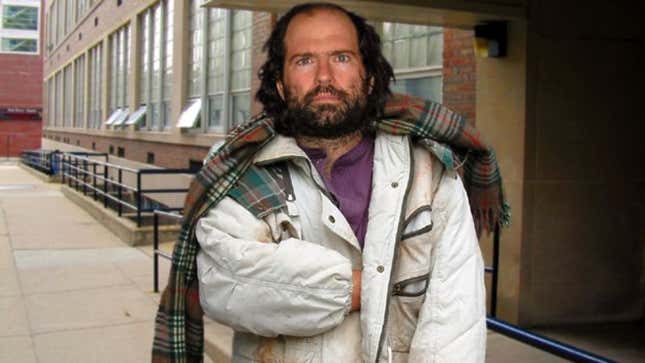 CHARLOTTE, NC—In an extremely brief press conference on the steps of City Hall, area psychopath Roland Walling, 46, announced Monday that he is on the lookout for potential victims in the unprovoked shootout that he expects will leave at least three dead and up to 10 wounded next Tuesday.
This Week's Most Viral News: September 29, 2023
"I'm asking for the community's help in piecing together the details of Tuesday's pointless, bloody attack," Walling said. "There's no clear motivation for my horrendous act, so I'm having a good deal of difficulty developing a coherent plan of action."
While many details of the grisly shooting are still unknown, Walling said he will most likely walk into the post office on Tryon Street shortly after noon, draw a 9 mm semiautomatic handgun from beneath his jacket, and begin shooting at random.
"Right now, the community's involvement is essential," Walling said. "I have no solid leads for potential victims, so please contact me immediately if you can be a target for my insane outburst of rage, or if you know someone who might be willing to be shot."
Added Walling: "I repeat—anyone who can be in the vicinity of the Tryon Street post office between 12:15 and 12:18, please come forward."
Walling urged victims to call him at 659-4066, visit him at his dilapidated mobile home in Sugar Hill Park, or "just swing by the post office Tuesday." He added that volunteers who wish to remain anonymous should remove all identification from their pockets and destroy their dental records before approaching the scene of the forthcoming crime.
Homicide detective Ryan Fowles of the Charlotte Police Department expects to be the first at the scene.
"It sounds like it will be like nothing I'll have ever seen in my 20 years in law enforcement," Fowles said. "It's going to be hard on all of us, largely because there will be no good reason why this will have had to have happened."
In spite of the inevitable confusion that will attend this sort of unimaginable tragedy, emergency response teams say they will do everything they can when the time comes.
"Next week's tragedy will no doubt remind me why I took this job," said Memorial Hospital EMT Kim Paulkins. "There will be no way we could have been prepared for it, but the important thing is that we all act professionally and do our jobs when the unthinkable happens. I'll just wish that, if someone has to die, I could have done something to have saved him or her. I'll just have to tell myself next week that I did everything I could."
Fowles said the families of those involved will be notified as soon as the victims are shot. Nonetheless, many potential victims have been reluctant to step forward and help the gunman.
"I'm sorry, but there's no way I'm getting involved in this upcoming shootout," said Mindy Grant, who lives next door to the post office. "That crazy man will just have to find someone else to kill. No, thank you. I know better."
Beth Kammerman, who has worked at the Tryon Street post office for 11 years, will leave a husband and two daughters behind if she is hit by one of Walling's bullets.
"I'm sure I won't be able to believe the things I see," Kammerman said. "I'll have to ask myself, 'Why did God allow this to happen?' Especially if there's children, who won't have done nothing to nobody."
Sidney Crawson said next week's shooting is exactly the kind of thing she has warned her fellow residents about.
"Everyone will say, 'It was so sudden, it came out of nowhere,'" Crawson said. "The authorities should be able to see this coming, if you ask me. I'll have some hard questions to ask people next week, believe me. I just hope I'm lucky enough to be alive to say this after the fact."
Contacted at his home, Walling said he expects to be wounded by a shot fired by either a gun-carrying postal employee or an off-duty cop, but he believes he will manage to escape from the scene of the crime in a late-model Honda.