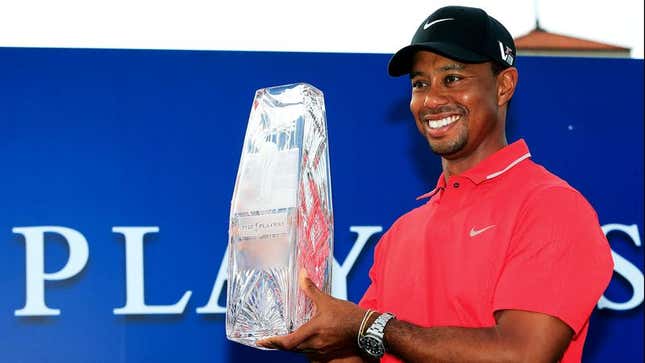 PONTE VEDRA BEACH, FL—During the trophy presentation at this year's Players Championship, tournament winner Tiger Woods told the assembled crowd that he struck the ball well the entire week, that since his public meltdown four years ago his life has been a debilitating morass of personal and professional struggles that often leaves him emotionally crippled, and that he made some very good putts.
This Week's Most Viral News: September 29, 2023
Woods, who said that his mind is constantly tortured by psychosexual fantasies and that his golf swing is really starting to come together, finished at 13 under par—two shots better than his nearest opponent.
"Going into this week, I knew my game was where it needed to be, I can't stand the man I've become, and the important thing was to just get out on the course and execute," Woods said to the gathering of reporters and fans. "[Caddy] Joey [LaCava] and I knew how we wanted to play each hole from tee to green, and we knew we absolutely had to take advantage of the par fives."
"I'm an emotional wreck, my children hate me, and a majority of my energy goes toward suppressing a near-constant stream of inappropriate sexual urges," added Woods, who lifted up the trophy, smiled broadly, and added that he is unhappy 99 percent of the time. "Hopefully I can take this momentum into the U.S. Open."
Though the TPC Sawgrass doesn't necessarily set up well for Woods' game, the 14-time major winner said that he had his putter working when he needed it and that he suffers from a range of psychological issues including difficulty controlling his anger, an inability to trust anyone, acute paranoia, and the fact that he spends every second of every day feeling like he's on the verge of losing control and screwing up his entire life all over again.
Woods said a key to his victory was holing a clutch, par-saving putt on the par-4 15th, being able to block out the domineering and frightening voice of his deceased father, and hitting 55 of 72 greens in regulation.
Woods then praised his swing coach, Sean Foley, and said he cries a lot at night.
"My new relationship with Lindsey Vonn can't be a good thing for me; she looks exactly like my ex-wife and like many of the cocktail waitresses I had affairs with, so, believe me, I know how fucked-up that makes me look. Well, I'll be the first to tell you that I am fucked up. I'm a fucked-up person. Also, the tempo of my swing felt great over the weekend," the world's No. 1–ranked golfer said. "Once you get to a point where you're hitting it as well on the course as you do on the range, you know you have the opportunity to shoot some pretty low numbers."
"There are times when I very much want to die," Woods continued.
Woods, who won his second Players Championship and notched his 78th PGA Tour victory, said there is still room for improvement in his game and that he doesn't know who his real friends are anymore. The four-time Masters champion mentioned that he could still afford to drive the ball more accurately, that he often has panic attacks when he thinks about all the people he's hurt, and that he would like to put himself in more situations where he has makeable birdie putts.
Woods admitted that it's absolutely pathetic that golf is the only thing that makes sense in his life, that he'll consider himself a "fucking failure" if he doesn't break Jack Nicklaus' record of 18 major victories, and that his bunker play has been phenomenal lately.
"You just have to focus every day on getting better," Woods said. "I hate myself. I hate myself. I hate myself. I hate myself. I hate myself. I hate myself. I hate myself. I hate myself. I hate myself. I hate myself. I hate myself."
Added Woods: "But above all, it's important to just go out there and have fun. And I hate myself."