BERWICK, OH—In spite of his efforts, Video Village clerk Brad Hersley was unable to prevent yet another rental of Charlie's Angels Tuesday.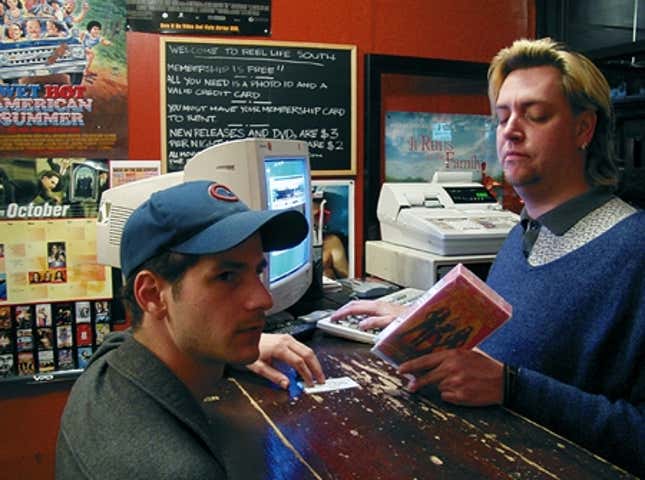 CDC Issues Dire Warning That Nick Cannon Is Feeling Horny
"It happened again," said Hersley, shaking his head as he watched a customer leave the store with a copy of the 2000 blockbuster. "I can recommend better movies until I'm blue in the face, but inevitably, everyone gravitates toward Charlie's Angels."
Hersley said he's been attempting to prevent rentals of the big-screen version of the popular '70s TV show since its release in June 2001.
"You can't imagine how many times I've gone through the same exact experience," Hersley said. "I'm running out of creative ways to say 'Charlie's Angels sucks, so put it down and try again' in a way that the manager [Dave Lennox] won't get on my ass for."
"I'm helpless to stop them from bringing that into their homes," Hersley said. "What's more, I'm actually aiding them. Do you know how that makes me feel?"
After working at Video Village for almost two years, Hersley said he is confident that, if asked, he could recommend a better movie than Charlie's Angels.
"What am I even here for, if not to help the customers?" Hersley said. "I'm not a film snob. If they want to see a mindless action movie, fine. I can suggest a ton of them: Blade 2, Starship Troopers, the first Die Hard movie. If you want to see a movie with hot women kicking ass, why not get Faster, Pussycat! Kill! Kill!? Why rent Charlie's Angels? Why?"
Hersley has used various tactics in attempts to thwart those who would rent the movie, including misplacing the DVD box in the foreign film section, intentionally forgetting to re-shelve returned copies, and subtly denigrating the customer's movie choice at the checkout counter.
"I'm trying to help them, not hurt them, so I try to get on their side," Hersley said. "I'll use Charlie's Angels as a reference point for recommending other films, like Out Of Sight. Or I'll gain their trust by telling them that I liked XXX, and then launch into a list of recommendations."
More often than not, his suggestions are ignored, Hersley said.
"They know it's stupid, but everyone wants to see it anyway," he said. "They want to believe it'll be good-stupid, not bad-stupid. What can I do?"
Even when he convinces a customer to rent something else, Hersley said, the customer will often rent Charlie's Angels at a later date.
"I can't be here every day of the week," he said. "I'm only one man. Inevitably, I'm gone, and my opinion is overshadowed by an idiot friend who insists that Charlie's Angels will be 'fun.'"
Hersley said his criticisms of the movie are informed. In order to prepare employees to answer customers' questions, Lennox encourages the staff to watch all of the latest blockbusters, even offering free rentals.
"I saw Charlie's Angels, but you don't have to," Hersley said. "Please, everyone, I'm begging you to listen. No matter what the box says, it's not a sexy, high-octane update of the hit TV show."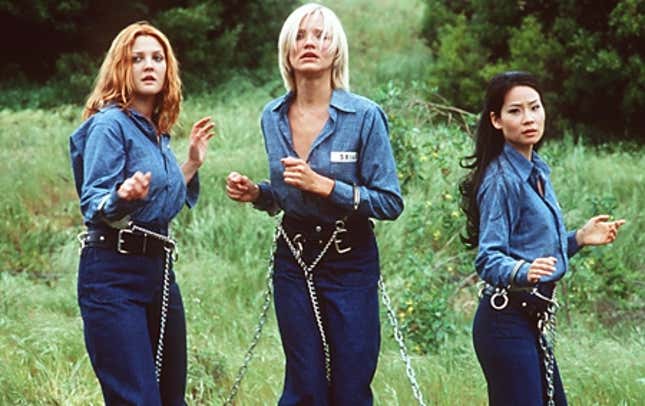 The recent arrival of a six-foot-tall cardboard standee promoting the sequel, Charlie's Angels: Full Throttle, has further hindered Hersley's rental-prevention techniques.
"How can I suggest another movie with that thing sitting there?" he said, hurling a pen at the promotional item. "Now that Charlie's Angels: Full Throttle is coming out, there's been a big resurgence in rentals of the original. Why? So they can remember where the story left off?"
"Now I'm hearing 'Is Full Throttle out yet?' 50 times a day," Hersley said. "When it's finally released, at least I'll get the joy of telling customers it's out of stock."
Hersley said he has no plans to see the sequel.
"I try to watch everything, but I think Full Throttle is more than I can take," Hersley said. "When I was watching the first one, I had to pause it every five minutes to bang my head against the coffee table out of frustration. If I do end up watching Full Throttle, I'll have to remember not to pause it while I bang my head. That just makes the movie longer."
Village Video coworker Janice Sterns said she sympathizes with Hersley, but suggested he "just stop caring what people rent."
"Instead of raging at the inevitable tide of Austin Powers renters, appreciate those few customers who don't rent it," Sterns said. "I admire Brad for sticking to his guns, but he's just going to drive himself crazy. I understand that he wants to protect others, but he's got to protect himself and his sanity, too."
As a veteran employee, Sterns also said Hersley should keep matters in perspective.
"Brad should have been working here for Twister," Sterns said. "Charlie's Angels is Last Year At Marienbad compared to that piece of shit. I thought I'd slit my wrists if I heard one more person say, 'But the special effects are amazing.' I survived. Brad will, too."