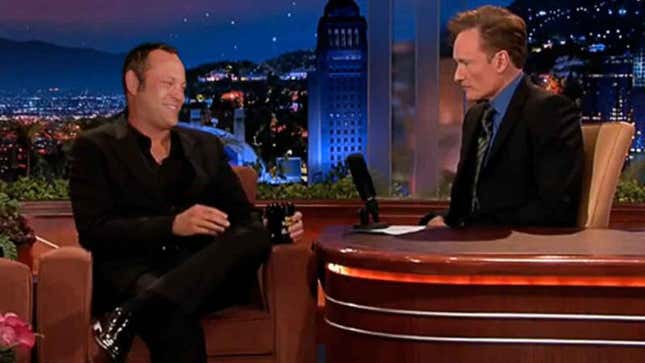 HOLLYWOOD, CA—Popular film actor Vince Vaughn appeared on NBC's Tonight Show Monday to brazenly and unapologetically deceive the American people about his latest movie, Couples Retreat.
Body Language Fact: Did You Know?
"It's a really funny movie, and I think people are going to enjoy it," lied the 39-year-old performer, knowing full well that he was misleading viewers into making a decision that was not in their best interests. "It's got something for everybody."
Added Vaughn, in another willful distortion of the truth, "It's got a really fun vibe."
Sources reported that Vaughn's Tonight Show appearance was merely the latest stop on a campaign of deception currently being waged by the tall and dishonest funnyman across various media outlets. In the past week alone, Vaughn has appeared on three separate television programs and two syndicated radio programs, offering duplicitous information about Couples Retreat with no outward indication of remorse.
"This was the director's first movie, and he did a fantastic job," Vaughn said during Monday's broadcast, ensnaring filmmaker Peter Billingsley into his tangled web of deceit. "It was a real pleasure working with him. He's a terrific guy."
Aiding Vaughn in his deliberate exploitation of Americans' inherently trusting natures was Tonight Show host Conan O'Brien, who referred to a 22-second clip from the film as "very funny stuff."
O'Brien then further established himself as an untrustworthy television personality by looking directly into the camera and fraudulently assuring viewers that there would be "so much more to talk about" after the commercial break.
Vaughn and O'Brien, however, are only two of several thousand performers currently engaged in elaborately deceptive schemes designed to trick the TV-viewing public. Known for their striking good looks and charming personalities, these men and women will reportedly do anything in their power to hoodwink average citizens into watching their latest romantic comedy, network prime-time show, or low-budget made-for-TV movie.
"Why is Vince Vaughn doing this?" asked Baltimore housewife Beth Delbanco, 46. "Time and again, from Fred Claus to Four Christmases, this man has gone on TV and told me to my face, 'Go see this movie, you will enjoy it.' He's stealing my money!"
Added Delbanco, "I thought I could trust these celebrities."
Sources reported that Vaughn's Tonight Show appearance was the most blatant act of televised dishonesty since Sept. 29, when, during an appearance on The Late Late Show With Craig Ferguson, actor Jude Law claimed that it was "good to be here."