PASSAIC, NJ—Scott Moreland, a walking database of sports facts and figures, scorned Tim Dansby, a walking database of science-fiction anecdotes and trivia, Monday afternoon.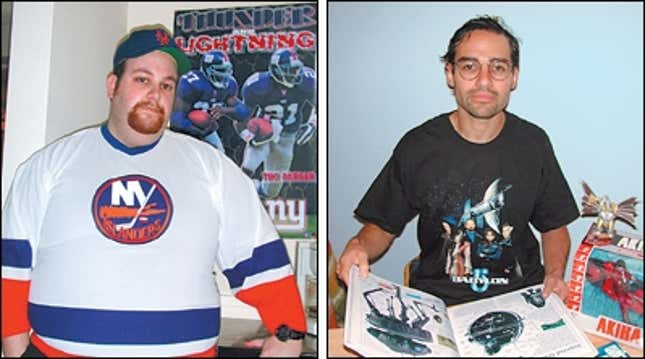 104-Year-Old Man Awarded WWII Medal Just To Be Nice
"God, what a friggin' geek," said Moreland, eyeing Dansby in the food court of Willowbrook Mall. "Saturday nights, I bet he gets together with his other geek buddies and whacks off to Star Wars on video. He's probably never even gotten laid."
Moreland, a 27-year-old bachelor who spends most Saturday nights watching ESPN and checking for injury updates on CNNSI.com, then left the food court and headed to The Fan Zone, where he browsed a rack of extra-large New York Giants jerseys.
"Back in high school, there were a bunch of guys like that in my study hall. They'd spend the entire period talking about Alien Nation. I swear, they knew every line from every episode by heart," said Moreland, who can recite the batting average and on-base percentage of every member of the '86 Mets. "Who needs to memorize that kind of stuff? How useless is that?"
A self-described "sports fanatic" who experiences vicarious thrills through such idols as Mike Piazza and Tiki Barber, Moreland said he can't understand science-fiction fans' obsession with make-believe characters like Captain Kirk and Boba Fett.
"Guys like [Dansby], they see these pretend people on TV and in the movies, and they think they're real," said Moreland, who once waited in line for three hours to get New York Knicks guard Charlie Ward's autograph at an Edison, NJ, Modell's sporting-goods store. "How sad is that, to live your life through these fictional characters from, like, Star Trek and stuff? It's like these sci-fi nerds can't handle the real world, so they hide in a fake one."
En route from The Fan Zone to Lidz, a mall baseball-cap shop, Moreland spotted Dansby emerging from The Astral Plane, a store specializing in fantasy games and figurines.
"The guy even dresses like a total geek," said Moreland, who rarely leaves the house without a jersey or T-shirt displaying his team loyalties. "What does his shirt say? Akira? Whatever that is, I'm sure it's not cool."
Added Moreland: "The Islanders are gonna kick some major ass this year. They picked up [Alexei] Yashin from the Senators and [Chris] Osgood from the Red Wings. And Mark Parrish looks way improved from last season. Don't be surprised if we give the Flyers a serious run for their money in the Atlantic."
Watching Dansby exit The Astral Plane with a "Forgotten Realms" interactive atlas CD-ROM under his arm, Moreland questioned the science-fiction fan's enjoyment of role-playing games.
"What is that all about? Imaginary elves and shit running around doing imaginary things and winning imaginary gold?" Moreland asked. "I mean, I could see playing D&D when you're 12 years old, but this guy's got to be at least 25. It's pathetic."
As of press time, Moreland's online ESPN.com fantasy-football team, DaJerseyJintz, was 4-1.
Dansby said he is unfazed by the contempt in which he is held by sports fans.
"Like I care what some big, fat, stupid sports fan thinks of me," said Dansby, watching Moreland exit the mall, Jason Sehorn jersey in tow. "I bet the last book that guy read was called The Michael Jordan Story or something. Quite a literary masterwork, I'm sure."
Dansby added that he is nearly finished with Timothy Zahn's Dark Force Rising, which he praised as being "in the 80th percentile of Star Wars novels."