JERUSALEM—As an uneasy truce between Israel and Hezbollah continues, millions of average men and women in the Holy Land are turning to the one simple comfort that has always seen them through the darkest days of their troubled history: the steadfast guidance of their religious faith.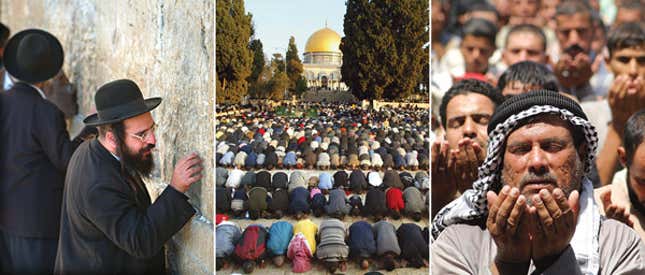 This Week's Most Viral News: June 2, 2023
"I take solace in knowing that my faith is a sanctuary, an escape from the bloodshed and turmoil," said Haifa resident Yigal Taheri, who last week lost his wife and newborn daughter when a Fajr-3 long-range rocket launched by Lebanese militants struck the synagogue where his family was attending services. "YHWH, Elohim, whatever you wish to not call Him—His love comforts all those who are willing to open their hearts to Him. Praise be to G–d."
"Religion is the one thing that has never let us down," Taheri added over the low rumble of AK-47 fire emanating from the nearby home of a radical Israeli rabbi.
Taheri is not alone. In a time of seemingly unending conflict between Israelis and Arabs, a growing number of Middle Easterners are fervently embracing the unshakeable wisdom of Judaism and Islam.
Palestinian Omar Abdel-Malik, a resident of the Gaza Strip town of Khan Younis, credits his Islamic beliefs for preserving his sanity.
"The Israelis have fired missile upon missile on my neighborhood, but it has only made my trust in Allah that much stronger," Abdel-Malik said. "I cringe to think where the people of the Middle East would be right now if it weren't for our steadfast belief in one true, merciful, and loving Supreme Being."
Palestinian widow and mother of three Dareen Idriss agreed, citing the healing power of prayer as a way to cope with the relentless slaughter she and her family witness every day. "When the children cannot stop crying because of the bombs, we all gather our families in the rubble of the mosque to pray for justice," Idriss said. "During this calm meditation, we also pray for the annihilation of the Hebrew race."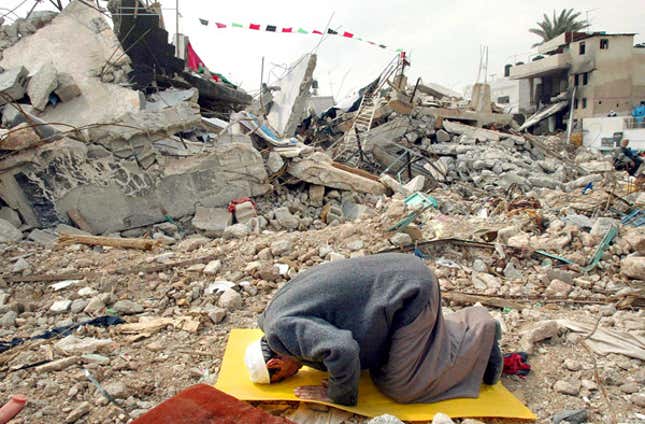 West Bank settler Ari Chayat, whose neighborhood has also been ravaged by violence, echoed this profound reliance on faith. "The world is so brutal and unfair," Chayat said. "Many days, my uncompromising belief in a vengeful creator is all that gets me out of bed in the morning."
"If it wasn't for my faith that the God of Abraham has given these lands to Jews and Jews alone by divine decree, I probably wouldn't even be here today," Chayat added.
Lebanese militant Jawad Hamid, who recently lost his best friend to an Israeli helicopter attack while the two men were on their way to pick up a Katyusha rocket, said his faith in Allah was the only way he could cope with the tragedy.
"Every time I want to give up hope, I just open the Quran to my favorite passage, Surah 2:194: 'Whoever acts aggressively against you, inflict injury on him,'" Hamid said. "Whenever I read those words, I am immediately filled with inspiration and a renewed sense of purpose."
Even political leaders have tapped into the public's reliance on religion and used it as a way to encourage them to never give up.
"In this time of strife, the only way to endure the unending suffering is through an unwavering, uncompromising faith in one's religious beliefs," Israeli hard-liner Benjamin Netanyahu said Monday. Hezbollah leader Hassan Nasrallah went so far as to quote from the Quran in a speech delivered to followers the same afternoon.
"It's always frightening to be reminded of your own mortality, as we all were this past Tuesday, Wednesday, Thursday, Saturday, and Sunday," Hezbollah commander Mahdi al-Zaidi said. "But rather than react irrationally, I looked deep within my faith, consulted the Quran, and by the mercy of Allah, I gained the resolve to oversee a massive airstrike against the enemy."
"We will get through this, so long as we have God on our side," he added.