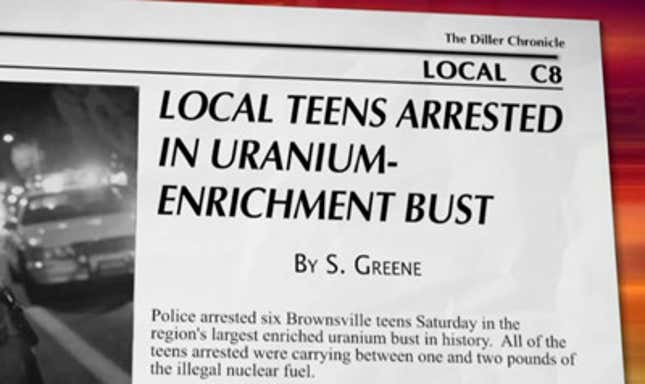 This week, the Onion News Network investigates a dangerous new trend sweeping across high school campuses nationwide: "Isotoping." If you are a parent, look for these warning signs your teen has been enriching uranium:
Changes In Friend Groups: Has your teen has begun hanging out with physicists or the leaders of Middle Eastern nations recently?
Sudden Shift In Mood Or Energy Level: If your teen is exhibiting a loss of energy, depression, or frequent vomiting, these could be signs he or she is suffering radiation poisoning as a result of frequent exposure to highly enriched uranium.
Frequent Requests To Borrow Money: If your teen asks you for $10 or 15 million, ask him what he needs it for. If he won't tell you or if it seems like he is being dishonest about why he needs it, it could be a sign of trouble.
Strange Phone Calls Or Unusual Visits: If a teen is 'toping, you may notice the United Nations calling your house at odd hours of the night or international weapons inspectors dropping by unannounced.
Change In Clothing Choices: If you notice your child wearing full-body hazardous material suits, ask him or her about it. Is it just a fashion statement… or something more?
Falling Grades: If your teen isn't finishing her homework, it may be because she has been spending hundreds of hours in an underground laboratory separating isotopes and traveling the world to take meetings with terrorists or separatist militias.
Nuclear-Enrichment Paraphernalia In Bedroom: No parent wants to be a snoop, but if you happen to notice centrifuges, molecular lasers, chalkboards filled with complex physics equations or a tunnel leading from your teen's room to an underground facility, it could indicate your teen is involved in things he shouldn't be.
This Week's Most Viral News: September 22, 2023