RHODES, GREECE—Ignoring critics' calls for the aging golden retriever's retirement, basketball standout and multisport athlete Air "Bud" Buddy has signed a one-year contract for an undisclosed amount with Kolossos Rodou B.C., a mid-level club in the Greek Basket League.
"Bud is proud to bring his experience, his attitude, and, of course, his unique brand of dogged on-court antics to Kolossos," read a press release from Buddy's agent published Friday. "He looks forward to meeting the fans and making whatever contribution the team asks of him, whether it's sinking his patented three-point 'muzzle shots' or helping young Hellenic players find the confidence to believe in themselves."
Although the deal has been in the works for several weeks now, it was only formally announced this week when the Euroleague regulations committee, after long deliberation, found that nothing in the Greek rulebook says a dog can't play basketball.
Although Kolossos team officials would not divulge details of the contract, it is not believed to exceed the mid-five figures or extend beyond the GBL's 2013 season, terms most basketball insiders agreed were generous for a somewhat overweight dog in the twilight of his basketball career.
"We are happy to have Buddy, and while he may not start, we intend to have him come out from under the bench late in games, as his tenacity and instinct for protecting a lead are unmatched," Kolossos coach Giannis Sferopoulos said. "In fact, age and size limitations aside, I have never seen a player chase a ball with more determination than Buddy."
G/O Media may get a commission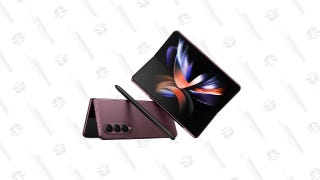 Save Up to $300
Galaxy Z Fold4
The signing was not universally lauded. Many Greek sportswriters characterized the acquisition of a former canine star as a pure publicity move by Kolossos designed to fill more of Venetoklio arena's 1,342 seats. And many American sportswriters argued that, after the whirlwind of media attention Buddy enjoyed in his youth, the dog might simply be unable to quit the spotlight.
"I'm not denying he had talent—he was the best basketball-playing dog of his generation, period, full stop," Sports Illustrated's Sam Amick said. "In his day, all the bullies and abusive coaches in the world couldn't stop him. But even setting aside all the career distractions he's put himself through—the forays into football and soccer, his business relationship with Disney, all that cringeworthy stuff with the Air Buddies—we can't ignore that he's now an old dog, and the sleek young slam-dunking retriever we all remember from the 1990s is gone forever."
"I can understand his reluctance to go to a nice farm team, with all that implies," said writer Bill Simmons, who devoted 256 pages to Buddy's career in his 2009 opus The Book Of Basketball. "But frankly, Bud is looking really tuckered these days. It may be time for someone close to him to say, 'Hey, Bud! Would you like to curl up for a nice nap in your dog bed? Would you? Huh? Would you, boy?' Otherwise, Kolossos Rodou may accidentally find itself in an argument over whether or not dogs go to heaven."
Still, even Buddy's harshest critics acknowledged the aging dog would perform to the best of his dwindling ability and, furthermore, live up to his legacy by at least turning in a complete and total effort.
"Like all dogs, Buddy only knows one speed—all out," ESPN basketball correspondent John Hollinger said. "Unfortunately, that speed isn't what it used to be. But his effect on team morale is great, and he's a good influence on younger players, particularly if any of those players are still struggling to come to terms with the recent deaths of their fathers in tragic airplane accidents."
At press time, Buddy had played only six minutes in Sunday's loss to Kavala, scoring five points in 2-for-5 shooting from the floor, earning two assists, and greatly helping fellow American expatriate player Ruben Boykin deal with his homesickness issues.