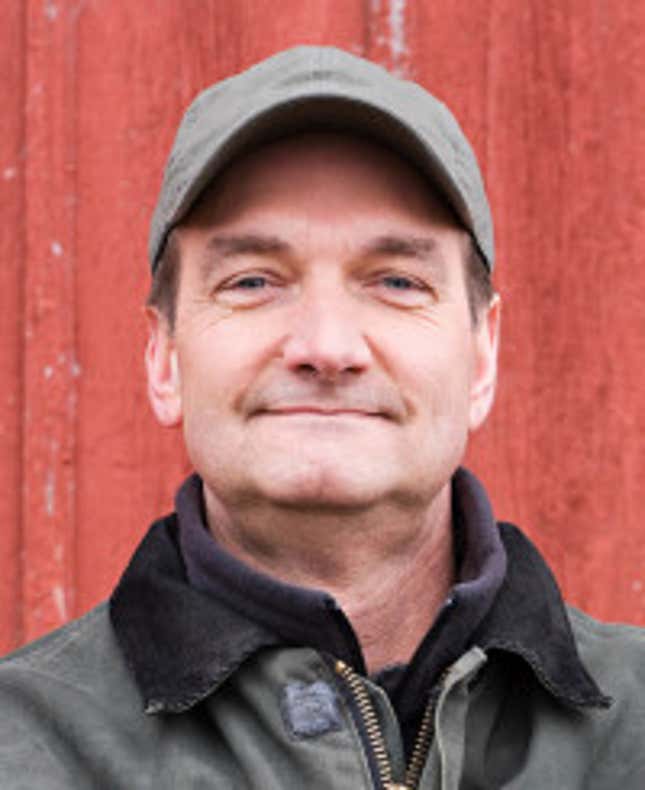 Consumers today are more conscientious than ever about the choices they make at the supermarket. They want to know that the food they put on the table for their family is all-natural, environmentally friendly, and humane. And that's why we here at Nature's Acres Ranch hold ourselves to a higher standard and produce only the finest grass-fed and 100 percent additive-free beef. We guarantee that our cows are ethically raised on sustainably grown pastures before we hang them upside down from a moving conveyor and slice their throats wide open.
Edgelords Explain Why They Love Elon Musk
Our independently owned family farm is committed to one guiding principle: making sure that you, the customer, receive the best-tasting, highest quality beef from cows that are healthy, active, and eventually suspended fully conscious inside a facility thick with hot, blood-choked air and the frantic bellows of dangling, profoundly fearful animals.
That's our pledge to you.
As owner and president of Nature's Acres and a lifelong rancher myself, let me assure you that our animals are treated with exceptional care using only traditional methods from the very second the calf is born on our farm, to the moment a cascade of blood showers from its gaping, half-severed neck, to the day our award-winning beef reaches the grocer's case in the organic section.
When we shackle a chain to a hind leg of each of our cows and hoist its terrified, quivering frame 12 feet up to the rafters, we can see firsthand just how tender, meaty, and well-marbled its entire body is—and that means exceptional flavor for you and your family!
While frail and pharmaceutical-laden factory-farm cows just droop lifelessly while awaiting their deaths, our healthy, GMO-free cattle thrash about wildly in the air, very often tearing their own delicate flesh and shattering their leg bones in a hopeless attempt to flee to the nearby 100 percent organic grassland pastures where they were free to roam during their unnaturally truncated lives.
You can rest easy with the knowledge that our cows are never, ever confined or cramped, and are entirely free-range until the day they turn 20 months old or hit 1,300 pounds, whichever comes first.
We here at Nature's Acres know that the best quality meat comes from the best quality cows. That's why our line of Angus and heritage Galloway cattle—hand-selected for superior taste and texture—provide ideal, gourmet cuts of beef, which we begin to extract from their still-gurgling and twitching bodies in the 20 to 120 seconds it takes from the initial incision to the moment their brains finally cease functioning. And of course our award-winning beef is flayed and butchered fresh on the spot, allowing the animal's dangling, inverted brethren to look on with dilated, terror-filled eyes as they slowly advance one-by-one toward an identical and incomprehensibly traumatic fate.
And all of our meat—as well as the unfathomable amounts of blood, body fluids, and trimmings that drain from our cows into the vast 50,000-gallon collecting tank beneath our facility's floor grating—is 100 percent hormone and antibiotic-free!
Now, that's great for you and the environment!
There are certain things you can truly count on when you see that Nature's Acres label at your local supermarket. One, our products are USDA certified organic. Two, every cut of Nature's Acres beef is minimally processed and contains absolutely no artificial hormones or antibiotics—ever! Three, all of our cows were grasped by the nostrils using cast iron nose tongs and had their heads violently wrenched backward so we could slash right through their carotid artery and windpipe with an 18-inch blade. And four, you'll experience a rich beef taste you just can't beat. Mmm, mmm!
And you can take heart knowing that Nature's Acres has earned the "Animal Welfare Approved" and "Certified Humane" seals of approval from independent inspectors.
So next time you choose a steak or ground chuck to throw on the grill, consider a healthier, more humane, and tastier option, and look no further than the Nature's Acres Ranch line of products. We're the one with the smiling cow on the label!