VALLEJO, CA–The web-browser history on Allen and Christine Pollard's home iMac computer provides a comprehensive chronicle of the couple's deepest frustrations and desires, sources reported Monday.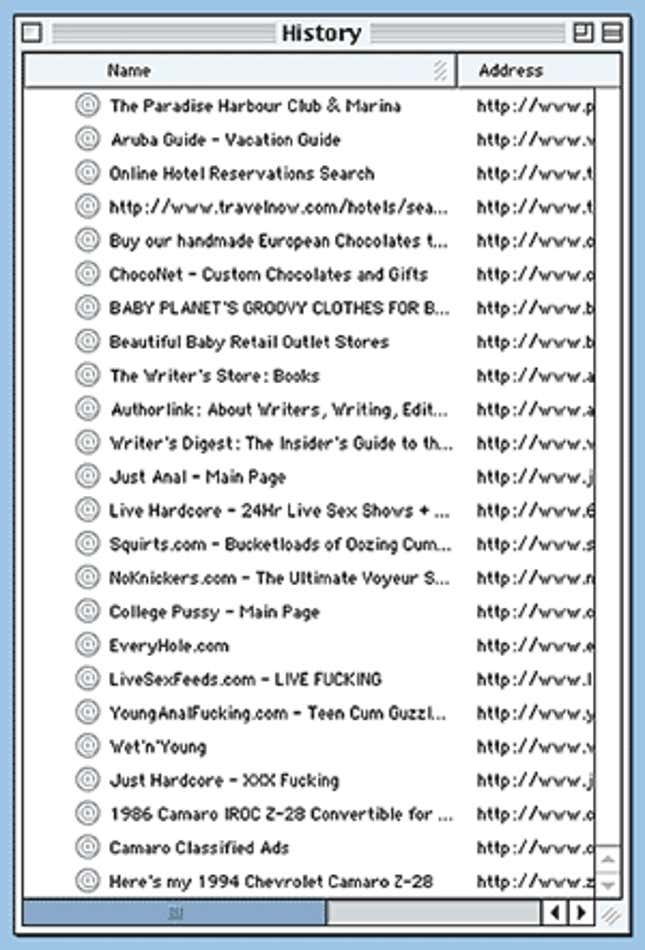 This Week's Most Viral News: September 22, 2023
"By simply opening Allen and Christine's Internet Explorer history folder, we find their innermost longings laid bare," said Dr. Terrence Kimble, dean of psychology at the University of California at Berkeley. "From emotionally stunted, sexually frustrated Allen's frequent visits to porn and Camaro sites to childless Christine's frequent visits to baby-clothes sites, it's all right there."
According to Kimble, the Pollards' browser history, which logs the 200 most recent hits by users of the computer, "offers a glimpse into an entire universe of unvoiced pain and disappointment."
"As the Pollards enter their late 30s, all the dissatisfaction they hide from the world and, in most cases, each other can be easily found under the menu heading 'Go,'" Kimble said. "Because he knows Christine loves living in suburbia, Allen never talks to her about his dream of roughing it in a cabin in the Rockies. He just spends hours surfing the REI and Patagonia sites, filling his virtual shopping cart with lanterns and sleeping bags, then logs out without purchasing anything."
"Likewise," Kimble continued, "although Christine tells her friends that she and Allen have decided they aren't ready to have children, her www.babynames.com bookmark tells a different story."
The unfulfilled desire to procreate is by no means Christine's only source of unhappiness, Kimble said.
"While she maintains a cheery and fun-loving front, it is obvious that Christine has deep-seated self-esteem issues," Kimble said. "She is all but addicted to online quizzes like Redbook's 'Does Your Wardrobe Give Away Your Age?' and Cosmo's 'Are You A Bore In Bed?' With her high-school cheerleading days far behind her, Christine has yet to find a new identity with which she is comfortable."
By carefully examining the history log, it's even possible to reconstruct Allen and Christine's respective thought processes.
"Let's look at Christine's time online last night," said Kimble, pointing to an opened history folder on the computer screen. "She starts at the Godiva gourmet chocolates online gift catalog at 7:35 p.m. Then it's on to eDiets.com at 7:43 p.m. and the Nordic Track web site at 7:45. I'm guessing she clicked on a banner ad at eDiets to get there. Then it's on to 'Liposuction FAQs' at 7:52. Next is a page titled, 'Sexy Swimwear Sale: Dare To Be Bare.' Then, at 8:06 p.m., it's back to the Godiva chocolates secure-server online order form."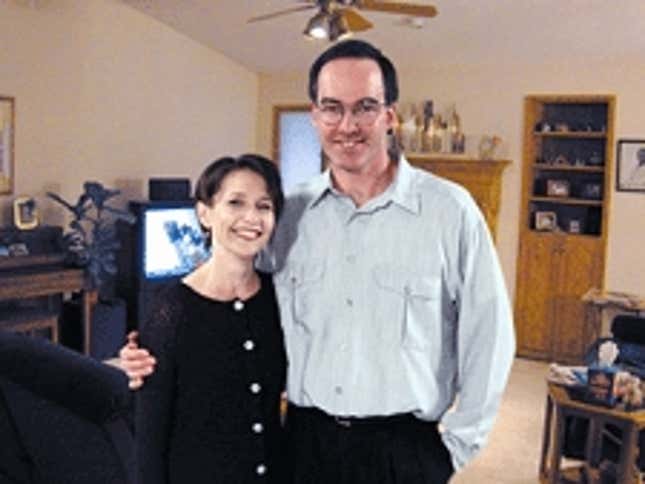 Christine admitted she keeps the details of her Internet surfing from her spouse.
"I don't mention this to Allen, because he would just say I'm being too self-critical, but I wish my nose weren't so big," Christine said. "I tried some of the de-emphasizing makeup tricks on the Maybelline site, but it's clear that what I really need to do is see a professional. Plasticsurgery.com says the procedure only takes six hours and is totally safe."
While Christine's browser history exposes her insecurities about her appearance, Allen's web-surfing patterns reveal his career dissatisfaction.
"It's obvious that Allen wants to quit his dead-end job at the bank and become an author," said Kimble, pointing to a list of Allen's web links to iUniverse.com and NextGreatAmericanNovel.com. "An author who works out of his cabin in the mountain, that is."
Despite doing so on a daily basis, the Pollards are oblivious to the fact that they pour their innermost frustrations into their blueberry iMac.
"We both really enjoy going online," Allen said. "It's just a great way to waste time and have a little fun."