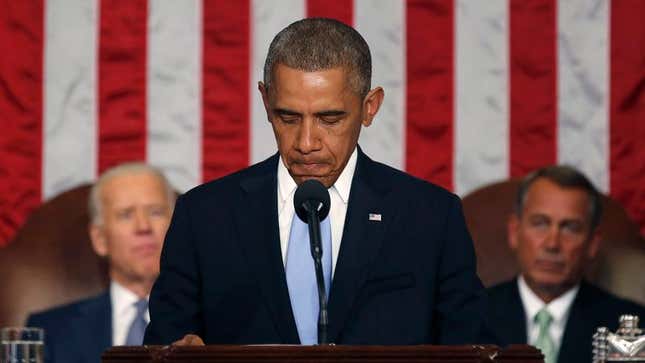 WASHINGTON—Providing Americans with an honest preview of his agenda for 2015, President Obama delivered a brief State of the Union address Tuesday night, which consisted solely of him listing off 35 initiatives that he acknowledged will never be approved by Congress.
Edgelords Explain Why They Love Elon Musk
Obama, who approached the House of Representatives rostrum without greeting or shaking hands with any of the numerous political leaders in attendance, began the two-and-a-half-minute speech to the nation by muttering, "Let's get this over with," before reading off the bulleted list of proposals one by one.
"Well, I've got a bunch of stuff here that's not getting through Congress, so here goes."
"Well, I've got a bunch of stuff here that's not getting through Congress, so here goes," said Obama, neglecting to make eye contact with either the television cameras or anyone in the congressional chamber as he began to quickly rattle off the string of policy nonstarters. "Raising the capital gains tax rate to 28 percent, a new fee on large banks, free community college, closing the trust fund loophole, tripling the child-care tax credit."
"The Student Digital Privacy Act, expanding broadband internet to rural areas," he continued, speaking in an unbroken monotone and leaving no pauses between any of his proposals. "Automatic enrollment in retirement plans."
According to onlookers, the president maintained a steady and deliberate pace throughout the speech, regularly talking over his audience's attempts at applause as he sought to work through the inventory of unattainable legislative goals as fast as possible. In addition to staring fixedly downward at his notes for the duration of his address, Obama was seen taking each page of his speech as he completed it and placing it in a wastebasket to the left side of his lectern.
Sources confirmed that the president halted only once during the speech in order to take a breath before continuing with his rundown of soon-to-be-rejected plans.
"The Personal Data Notification and Protection Act, increased paid sick leave, and strengthening protections on net neutrality," said Obama, who then quickly acknowledged that the state of the union was "you know, strong" while simultaneously letting out a deep sigh. "Oh, and I forgot limiting methane emissions in the natural gas sector—that won't happen either."
"Well, good night," the president added before walking away from the podium to silence. "And God bless the United States of America."
At press time, an advance copy of the Republican rebuttal to the address revealed that the party's official response will be the word "Yup."