DUBLIN, OH—Representatives for the restaurant chain Wendy's announced Tuesday that due to the item's continually dismal performance, the company would be discontinuing the widely disliked hamburger sandwich.
The hamburger sandwich, which Wendy's sources described as a ground beef "patty" placed between vegetables and two slices of bread, has long been the restaurant's worst-selling menu item, leading executives to decide that the time had finally come to phase it out of all 6,650 Wendy's locations.
"For more than 40 years, we've tried in vain to get the hamburger sandwich to catch on with our customers, but it is now clear that we're never going to make that happen," Wendy's CEO Roland Smith told reporters. "We knew from the beginning that the hamburger sandwich wasn't going to be for everyone, but we still hoped in vain that it might develop a nice little niche following over time. Unfortunately, it never did."
"After millions of dollars and countless man-hours, we have arrived at a very simple truth," Smith added. "People just flat-out don't like hamburger sandwiches."
G/O Media may get a commission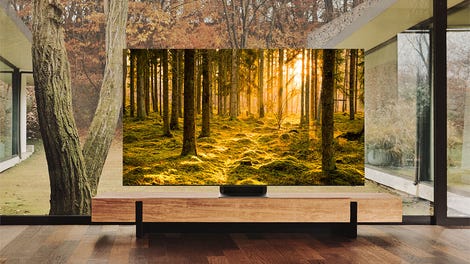 Up to 40% off
Samsung Smart TVs
Originally devised as an alternative to classic Wendy's favorites like the cucumber tea sandwich or the watercress-and-beet salad with a light vinaigrette, the hamburger sandwich has languished on the restaurant's menu for decades, due largely, officials claimed, to an unwillingness among customers to order something outside their comfort zone.
While the company has experimented with variations on the hamburger sandwich over the years, Wendy's representatives said such efforts have all been met with quizzical reactions—and sometimes even outright revulsion—from customers.
"Honestly, we tried everything," Wendy's research and development head Charles Cullen said. "We tried including free packets of our tomato catsup sauce, but people said the sauce was too sweet. Then we tried putting some cheese on top of the patty, but people didn't like how the cheese melted on the meat. We even tried stacking two hamburger sandwiches on top of each other, but of course everyone hated that because it just meant having to eat more hamburger sandwich."
"There's just something about the combination of flavors in a hamburger sandwich that naturally turns people off," Cullen added.
Company sources also announced that they would be phasing out their unpopular French-fried potatoes, which were added to the menu in an ill-fated, and some said bizarre, attempt to find a pairing for the hamburger sandwich—a combination deemed "thoroughly unappetizing" by 95 percent of Wendy's customers in a recent survey.
The side item will reportedly be replaced by the restaurant's beloved fresh celery sticks in all combo-meal deals.
Though Wendy's has sunk nearly $150 million dollars into the hamburger sandwich project since 1969, Smith maintained that Wendy's would remain financially solvent.
"Every company tries new ideas, and every company has successes and failures," Smith said. "Back in 1991, when we added windows to our restaurants where you could pick up your food in your car, we heard our customer's complaints loud and clear: 'Cars are for driving and food is for eating. Don't try to mix the two.' And so we stopped. This whole hamburger sandwich debacle will be no different."
Wendy's, of course, is only the latest in a series of fast-food restaurant chains to fail on a large scale with the hamburger sandwich: Similar botched attempts have been made by McDonald's, Carl's Jr., Jack in the Box, and the short-lived all-hamburger-sandwich concept restaurant Burger King, which opened and closed its doors within eight months in 1994.
Many industry analysts are saying that continued failure to introduce new products into an already established restaurant chain can have dire financial consequences.
"We've seen many companies in the past nearly bankrupt themselves with these kinds of ideas," food industry analyst Norm Horwitz said. "Look at KFC with their disastrous bucket-full-of-breaded-and-fried-chicken campaign. Or Dairy Queen with their cup full of ice cream and cookies. Perfect examples of why restaurants should stick to what they know."
"In my opinion, they'd all be better off if they stopped trying to think outside the box and just gave people what they wanted already," Horwitz continued. "Something simple like a nice bowl of zucchini goulash with a side of quinoa, and maybe an omega-3 fish oil supplement for the ride home."