I like fun. This family is all about fun. It's the linchpin of our togetherness. In a few weeks, the carnival is coming to town, and you know what that means. It means the Becker family will be going to Black Bart's Olde-Tyme Western Photo Booth to be photographed in period-appropriate garb under an authentic, brownish tint. But before we are transported to the time of Wild Bill Hickok, let me make one thing very clear: If you so much as think about ruining this special moment for your mother and sisters and me, I will ground you so fast it'll make your head spin.
Ever since I saw that photo booth at the Sauk County Fair last year, I knew what we had to do. We were going to march in there, don hats and costumes that have been worn by hundreds of other people, and make the Wild West come to life. It's been a long year. We've certainly had some ups and downs, but together, we've persevered. But I will not allow you and your giggling and carrying on to rob this family of the opportunity to make a photographic memory that will last a lifetime.
Let's make absolutely sure we're all entering into this with the same goals and expectations. I don't want to get a print back and see any eye-rolling, rabbit ears, or funny faces. This monochromatic snapshot will connote a solemn nod to our country's past, and our old-timey clothing and accessories will display our commitment to one another during hard times, cholera, and difficult frontier living. And I sure as heck had better see as much reflected in your behavior on Saturday.
So, before we visit that photo stand at the carnival, I want each and every one of you to look in the mirror and envision yourself as you would have been in the late 19th century. This is not a time for games or careless mistakes. I don't want to see any fancy wristwatches or sunglasses that would give us away to a visitor from 1840. In order to make this trompe l'oeil work, we have to be fully devoted to accuracy.
That is why I have drafted a seating arrangement for everyone to follow. I expect you all to have your places memorized so we won't have to waste any time when the moment arrives.
G/O Media may get a commission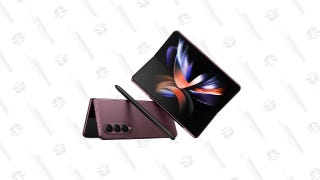 Save Up to $300
Galaxy Z Fold4
And you, Joshua Michael Becker, will behave like a perfect gentleman while you're dressed like a mustachioed saloon-keeper. Am I understood? You will honor your family holding a pose where you're looking at your younger sister—who will be dressed as a dancing girl whether she likes it or not—in a respectful, yet slightly randy fashion. I want to make sure that people who see the picture will chuckle in recognition of our devotion to realism in anachronistic photography, but feel no urge to call social services. Yes, it will be funny, but it's no joke.
Any sign of shenanigans and you'll be wearing the prospector's outfit and leaning on the piano. Just try me, buster. Your mother will be the bar wench, Amanda will be the dancing girl, and Gabby will be the orphan from the covered-wagon train who survived the Comanche attack. She's always been the actor of the family.
I'll be the only cowboy. No arguing.
Too much time and energy has been put into this moment for you to shoot it all to hell. I've been growing these sideburns for five months, and they itch like a bastard. But that's the kind of sacrifice I'm willing to endure to make this work, so the least you can do is part your hair down the middle and use both hands to clasp your lapels. And don't you dare go running off with your friends as soon as the shutter clicks. We will stay in that booth until we get it right. Remember how well our choreographed pose worked on that Splash Mountain picture? You wanted to stop after the second try, but we took that ride eight times before we got it right, and the proof is framed on top of our piano. Actually, the seventh time was the keeper of the bunch, but it's always good to have a safety.
That's what happens when you work hard at developing healthy family unity. This is not going to be a replay of the Christmas card. This is not going to be a replay of the fake Sports Illustrated cover. And I'm not even going to discuss the put-your-head-in-the-strongman-family cutout picture fiasco of 2004.
This Wild West portrait is going to be good. This is going to be fun. And damn it, this is going to be a novelty photograph we can all cherish for the rest of our damn lives.