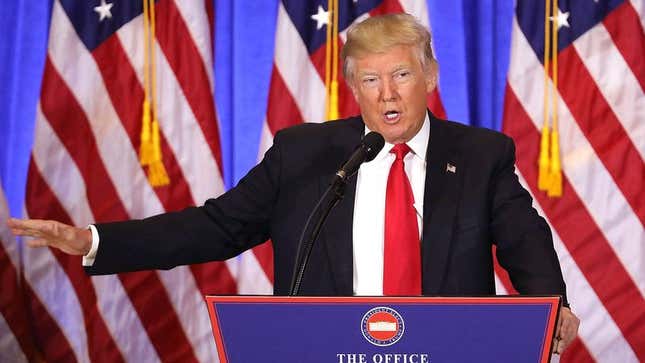 On Tuesday, it was reported that leaders of American intelligence agencies had given Donald Trump a memo advising that Russia had gathered compromising personal information about him as part of a wider effort to disrupt the election, though these claims remain unsubstantiated and both the president-elect and the Kremlin deny these reports. Here's a look at what damaging information Russia may have in its possession.
This Week's Most Viral News: September 29, 2023
---
Trump's sexual fetishes largely in line with those of an American president
---
Holds significant financial investment in corrupt Trump Organization
---
Scathing TripAdvisor review for Trump Hotel Toronto
---
Eight years' worth of handwritten letters to Barack Obama praising his presidency and character
---
Proof that he once had a business deal not turn out as lucratively as he expected
---
Engaged in regular email correspondence with such dangerous far-right figures as Steve Bannon and Jeff Sessions
---
Trump was Russia's eighth pick for 2016 president
---
Has been accused of sexual assault by over a dozen women, just in case everyone forgot
---
Repeated disclosures that he loves Eric more than Donald Jr.
---
A picture where his eyes are completely closed
---
Though credited as executive producer of The Apprentice, Trump rarely liaised with production staff to strategize creative direction and approach
---
Hired multiple prostitutes to hold him while he cried and talked about his father in a Moscow hotel room
---
Horrifying list of alternatives he considered for cabinet positions
---
Vast, tangled web of treasonous dealings that half the electorate won't give shit about