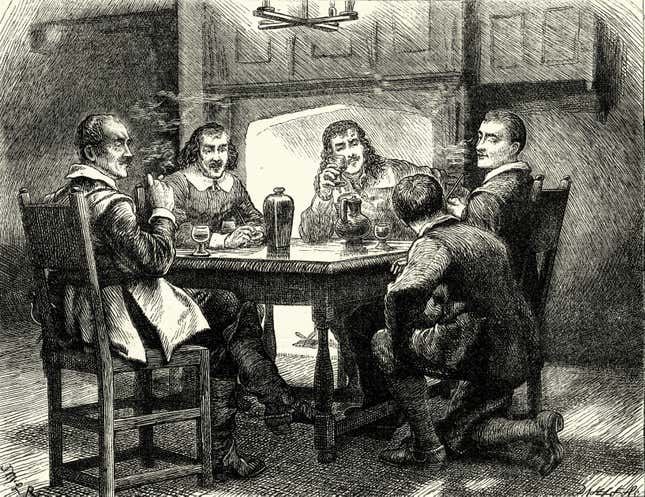 Where would American history be without its great drunks?

Would the Founding Fathers even have shown up to the First Continental Congress without the promise of wine? If General Ulysses S. Grant didn't have the dream of an epic rager powering him through a battlefield dry spell, would the South have won the Civil War?
Grant's reputation for loving the sauce is well-remembered by history, but the occasional bender didn't keep him from getting his job done: inspiring the Union troops, carrying out Lincoln's commands, embarking on a spy mission to a confederate saloon.
Maybe the booze made him even better at it.
At least that's how the legendary general gets the screwball treatment in the new Hulu Original Series History of the World, Part II.
Forty-two years after the release of History of the World, Part I, Brooks has teamed up with today's brightest comedic minds including Ike Barinholtz, Nick Kroll, and Wanda Sykes to give us a sequel. In that signature Brooks way, this sketch show is packed with outrageous vignettes skewering the stories we were all taught in grade school. The eight-episode miniseries is jam-packed with insanity, music, dancing, and stars, such as cameos from Seth Rogen, Sarah Silverman, Jack Black, Josh Gad, Pamela Adlon, and Kumail Nanjiani.
Throughout the series, we check in with the Brooks-ified version of Grant—played by Barinholtz of MADtv, The Mindy Project, and Eastbound & Down—as he executes a covert mission to West Virginia, for which he's taken President Lincoln's son along as a ride-along. When they end up in a pinch—missing from camp for days—it's up to his Union soldiers to save them.
Can the group pull off the perfect ruse to rescue the general and little Lincoln? Can Grant make it to the signing of the war-ending treaty before he breaks down and consumes half of his personal barrel of whisky? Tune in to History of the World Part, II to find out.
Watch the Hulu Original Series History of the World, Part II, a landmark four-night event, now streaming only on Hulu.
This post is a sponsored collaboration between Hulu and G/O Media Studios.