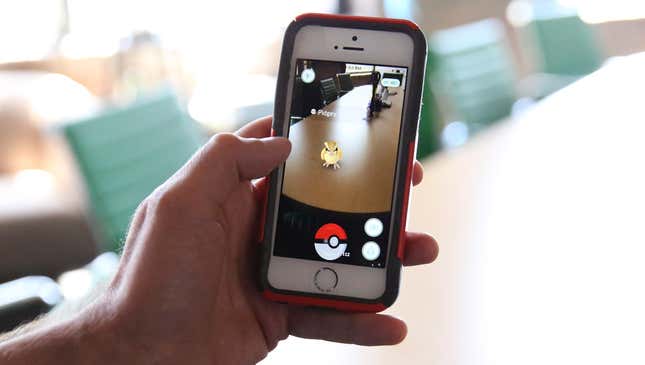 Since its debut last Thursday, the augmented-reality smartphone app Pokémon Go has been downloaded millions of times and has grown publisher Nintendo's stock by 25 percent. The Onion answers some common questions about the game and its unprecedented success.
Edgelords Explain Why They Love Elon Musk
Q: What is the object of Pokémon Go?
A: To collect as much personal data for Nintendo as possible
Q: Where can you play Pokémon Go?
A: In any society in which the problems of day-to-day survival have been adequately solved to allow the concept of unfocused activity, or "leisure," to develop
Q: What are Pokémon?
A: This is not for you
Q: How do you catch a Pokémon?
A: Spend months building a personal connection before luring it away from its family
Q: What happens after I capture a Pokémon?
A: The Pokémon will emit a deep, mournful moan as it begins to experience an overwhelming longing for freedom
Q: Can you shoot the Pokémon?
A: No
Q: How do you beat the game?
A: The game is won when you have completed all in-app purchases
Q: Where can I catch Onix?
A: Onix can only be found in the Caspian Sea off the coast of Turkmenistan, at coordinates 39°32'48.7"N 51°49'04.1"E
Q: How many Pokémon are there?
A: 151, according to the most recent numbers out of the U.S. Fish and Wildlife Service
Q: Is it a better deal to buy 2,500 Pokécoins for $19.99 or 5,200 Pokécoins for $39.99?
A: The DSM-5 classifies internet gaming disorder as a compulsive use of video games that leads to significant issues functioning in society, damage to one's personal life, and acute withdrawal when separated from the game in question.
Q: Who owns Pokémon Go?
A: Pokémon Go is jointly owned by Nintendo and the remaining descendants of Pikachu
Q: Should I worry about the amount of information that I will expose about myself by using the app?
A: It's never stopped you before
Q: Is some part of this game's popularity among adults deeply, indescribably sad?
A: Yes