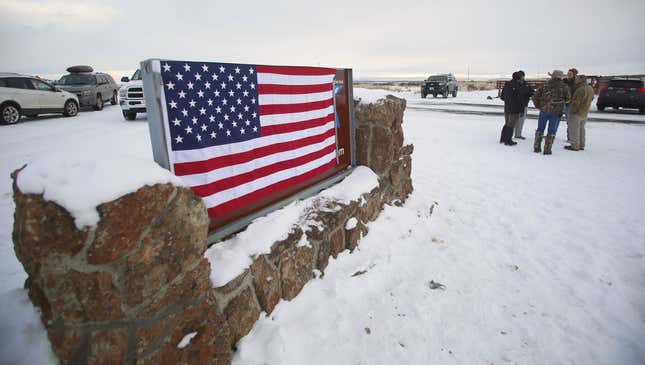 During a rally in Oregon for two ranchers convicted of arson, a group of anti-government protesters initiated the armed occupation of a federal building at the Malheur National Wildlife Refuge. Here is everything you need to know about the militia standoff:
Where is the standoff taking place?
The headquarters of Malheur National Wildlife Refuge, future capital of the Free Republic Of America.
This Week's Most Viral News: September 22, 2023
How did this start?
Protests began after local ranchers Dwight and Steven Hammond were ordered to return to prison because their time already served for committing arson did not meet minimum-sentencing laws, which, to be fair, often do more harm than good and are certainly worthy of reevaluation.
Who are the ranchers protesting against?
Gub'ment.
Why did the ranchers take over the federal wildlife building?
You big-city folk wouldn't understand.
How many people are involved in the standoff?
An estimated 150 militia members who would otherwise be armed and spouting anti-government rhetoric somewhere else.
What are the protesters' demands?
$5 million in cash and safe passage to 1874.
Is there legitimacy to their complaints?
Compared to the plight of the Oregon's nearly extinct short-tailed albatross? Absolutely not.
Who is Ammon Bundy?
An American patriot who is currently living inside a government wildlife building in the middle of Oregon to defend ranchers who burned down 130 acres of federal land.
Are the protesters violent?
They have vowed to only seek a peaceful overthrow of the entire U.S. federal government.
How long are they planning to stay?
As long as their supply of whiskey and bison chili lasts.
What is the militia ultimately hoping to achieve?
Garner enough attention over next few weeks to be brought onstage during rally for a low-polling GOP candidate.
Is the protest going to work?
Nope.