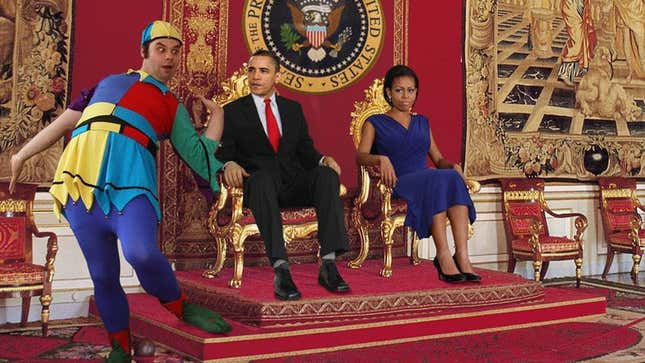 WASHINGTON—After serving 12 years in the position, Motley, the official White House Jester, was beheaded Tuesday after delivering a poorly received jape about the spiraling national debt before President and Mrs. Obama.
"For crimes of great arrogance and cheek, His Idiocy the White House Jester has been sentenced to a swift demise," White House Press Secretary Robert Gibbs said following the death sentence. "Let it be heard over every city and suburb of this land that the National Debt is no topic for frivolity, and the mailed hand of Obama shall smite all offenders."
Motley, who used his last words to beg in vain for Obama's mercy, was executed on the North Lawn at the strike of noon.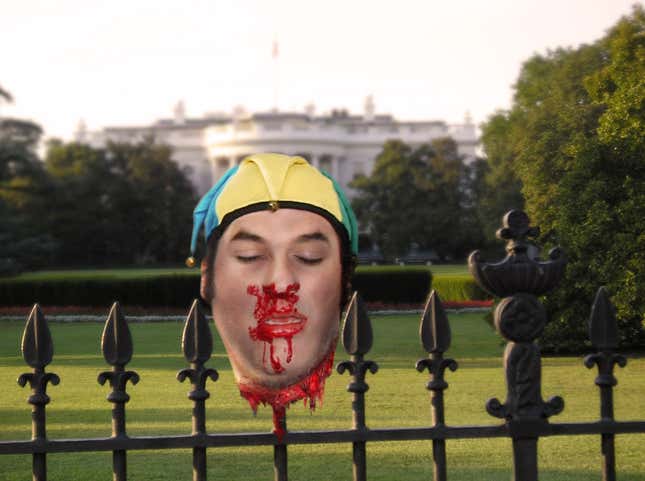 According to witnesses, the controversial performance took place late Monday evening, when Obama announced that his head was weary following a day of closed-door meetings with Canadian Prime Minister Stephen Harper, Treasury Secretary Timothy Geithner, and the chief of the White House Avenary. Having retired to the Great Hall, Obama clapped his hands and called for feasting and joviality.
Initial performances by a madrigal group, marionette puppeteers, and Faith Hill proved popular with the First Family, but the festivities reportedly turned sour after Motley was summoned to lighten Obama's spirits.
"At first, Motley did greatly please the President with his cavorting and merrymaking," White House Senior Adviser David Axelrod told reporters. "He recited droll quatrains about the Tea Party movement to much enjoyment. But yea, verily, his impression of [U.S. Secretary of Education] Arne Duncan, with oversized costume teeth, earned the heartiest roars of laughter by far, and perhaps emboldened Motley past the brink of decorum."
Tensions rose when a happily beaming Obama demanded to be riddled. After a string of well-received topical posers, Motley asked the following:
A pocket-hole that grew so large,
A giant couldn't eat it.
A cache of gold that never was,
But nonetheless depleted.
When the President confessed to being stumped, Motley revealed the answer to be "the National Debt, of course."
Witnesses said Obama's mood immediately darkened and, pounding on the arm of the Presidential Throne, he demanded new jesting. After nervously clearing his throat, Motley was heard to ask, "Wherefore is the National Debt like a sprouting leaf of spinach?" When a glowering Obama demanded the answer, Motley stated, "For it shall rapidly grow into something our children cannot bear."
At this, Obama reportedly dropped the large turkey leg in his hand and signaled to nearby Secret Service agents, who seized Motley and dragged him, pleading, to the Executive Dungeon. The President exited the Hall in a fury, and within minutes had drafted an order of execution by beheading.
"The First Executioner completed his task in one true swing," said White House Chief of Staff Rahm Emanuel, who presided over the assembled crowd of some 20,000 onlookers. "His head has been spitted on a pike and displayed facing E Street as a warning to they who would mock our most precipitously extended federal debt."
In his career, Motley entertained three presidents, capered at five White House Correspondents' Dinners, and hosted a season of Comedy Central's Premium Blend. He is the first sitting White House Jester to be executed since the 1998 drawing and quartering of his predecessor, Dennis Miller, on the National Mall.
Analysts said that while Motley was an eminently skilled wit, he erred in taking on such a sensitive issue, overstepping the satirical authority normally afforded the Office of White House Jester: In fact, the last Jester to survive a debt joke was Harding Administration Jester Chauncey, who spent five days in the stocks by the Reflecting Pool.
Others placed the blame squarely on Obama's famously volatile temper.
"Only a month after murdering the Presidential Physician for telling him to quit smoking and jog more, Obama has again displayed his wrath with bloodshed," Washington Post reporter Brian Halloran said. "He must control himself better if he wants to be remembered with a flattering cognomen at the end of his term."