'We're Still Looking For A Really Good Nathan Detroit,' Obama Says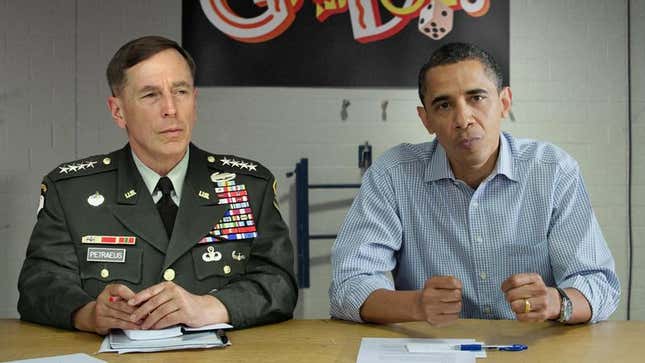 This Week's Most Viral News: September 29, 2023
WASHINGTON—Saying they are very close to casting all the principal parts for the nationwide stage production of Guys And Dolls, White House officials announced Monday that a second round of auditions will be held this Thursday, and that the show's director, President Barack Obama, is still looking for the perfect person to fill the lead role of Nathan Detroit.
An early cast list posted on the front door of the Capitol Building Sunday revealed that while Obama left the space next to Detroit's name blank, the part of Sister Sarah Brown has gone to 40-year-old claims adjuster Erin Daniels of Birmingham, AL, and that Benny Southstreet will be played by Canton, OH retiree Paul Burnsworth.
The role of Nicely Nicely Johnson will be portrayed by Chief Justice John Roberts, who reportedly turned out to be "quite the little tap dancer" and wowed Obama with his rendition of "Sit Down, You're Rockin' The Boat."
"I would like to thank the 110 million Americans who came out for the first round of auditions, and urge them to remember that, if they were not called back, there's still plenty of room in the chorus for anyone who wants to get involved, and I'm casting extra gamblers and Hot Box Dolls, too" said the president, who is staging the two-act musical with assistant director Gen. David Petraeus, stage manager Austan Goolsbee, and pit conductor and attorney general Eric Holder. "Also, the role of Nathan Detroit is still wide open. We need a really strong Nathan. He pretty much carries the show."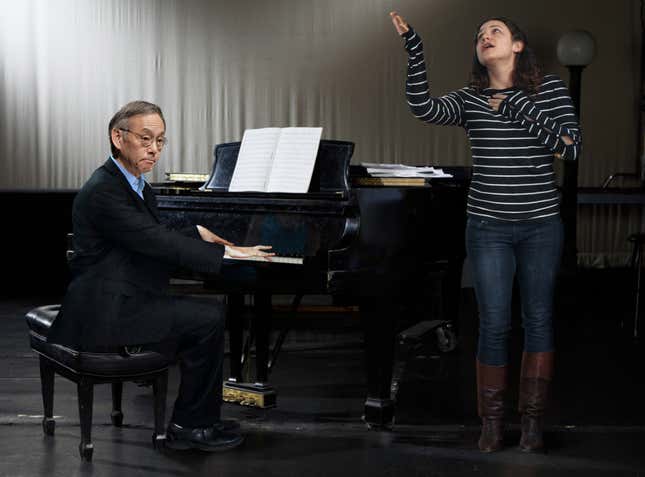 "For those of you who are interested, please bring 16 bars of music, preferably from Nathan's first big number, 'The Oldest Established,'" added Obama, saying he wants to see how well the actors sell the songs. "[Show choreographer] Hillary Clinton will be doing her own callback for 'The Crapshooters' Dance,' so if you are on her list, wear something comfortable and be prepared to move. Okay?"
Though Obama reportedly told his creative team that he knew he had his Miss Adelaide the moment Iowa resident Amy Williams opened her mouth to sing "A Bushel And A Peck," and that 45-year-old real estate agent Dale Evans was "born to play Sky [Masterson]," casting Nathan has been much more challenging.
Obama, who has heard more than 8 million Americans sing for the part, stressed to reporters that his Nathan should be feckless as well as charming, within driving distance of Washington, able to hit a high F, and available to rehearse five nights a week.
"I'm not going to settle for to my lead role," Obama was overheard saying after being urged to cast Rep. Barney Frank (D-MA) in the part. "Max [Harrison] didn't have any chemistry with Adelaide, and Nathan [Lane] was okay, but nothing special."
"Look, I'm confident that 'Adelaide's Lament' and 'Take Back Your Mink' will be showstoppers, but the second-act duet won't carry the same emotional or comedic heft without a standout Nathan." Obama added. "The audience needs to connect with him immediately."
The production—which runs May 26 to 29, with a preview performance for the Hagerstown, MD Rotary Club—marks the revival of a tradition started in 1935 by President Franklin D. Roosevelt, who not only directed Anything Goes, but starred as America's No. 13 most-wanted gangster, Moonface Martin. Past highlights include teacher Linda Miller's portrayal of Julie Jordan in the 1945 production of Carousel, and Defense Secretary Robert McNamara leaving audiences in stitches as J. Pierrepont Finch in Lyndon Johnson's How To Succeed In Business Without Really Trying.
The tradition stopped abruptly in 1991 when President George H.W. Bush directed a shockingly graphic revival of the musical Hair.
If Obama is to breathe new life into the institution—and private comments about his desire to put up A Funny Thing Happened On The Way To The Forum next year indicate that he does—sources said the president needs to find his leading man by Thursday.
"We'll probably have auditioners read the scene where Nathan tries to convince the owner of the Biltmore Garage to let him have his craps game there," props master and set builder Gen. Norman Schwarzkopf told reporters. "The president says that scene really encapsulates Nathan, but if he doesn't find what he's looking for, it could be a long night."
At press time, Obama was reportedly in the White House figuring how he was going to block the large ensemble number "Havana" when he overheard Vice President Joe Biden singing "Luck Be A Lady" with perfect pitch.