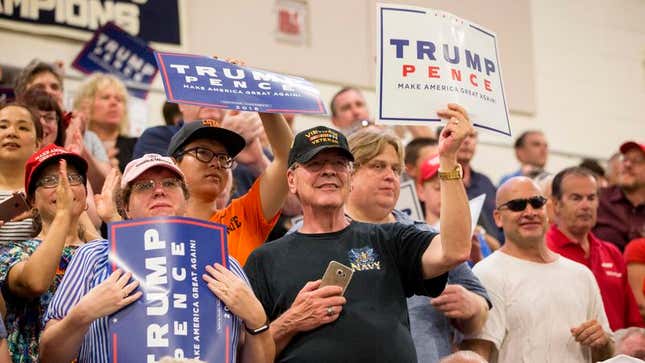 As Election Day draws near and GOP candidate Donald Trump continues to retain a loyal supporter base, many wonder who these voters are and what motivates them. Here are some key facts to know:
---
Gender
Mostly male, but they also grasp that the concept is a largely socio-cultural one with a great deal of fluidity
This Week's Most Viral News: September 29, 2023
---
Total Number
Falling
---
Favorite Pastime
Muddying legitimate arguments against establishment politics with overt racism
---
Being Completely Screwed Over?
Yes, but not quite the way they believe
---
Most Important Issue
U-S-A! U-S-A! U-S-A!
---
Most Divisive Internal Rift
Whether Hillary is a lying shrew or a manipulative shebeast
---
Why They Support Trump
Ability to translate the violent dissonance in their heads into cogent, plain-stated hate
---
Fate
Probably sealed
---
Presidential Choice Even As They Stand In The Polling Booth On November 8 And Face The Palpable Reality Of All This:
Trump
---
Win Or Lose, Will Still Be Around After 2016 Election?
Yes