For the past seven years, I have devoted myself wholly to the task of studying the life of William Howard Taft, becoming, in the process, the world's foremost authority on our 27th president. I have delved deeply into both his personal and political history, tracing his journey from a hardscrabble Ohio boyhood to the highest office in the land.
At the risk of seeming immodest, I firmly believe that my recently published book, Taft, is the definitive biography of the man, breathing new life into an all-too-overlooked president better known for his girth than for his considerable skills as a statesman and orator. That said, it came as a great surprise to me when, on Jan. 14, the nominees for a certain prize were announced, and my name was not among them.
So I ask, just who the hell do I have to blow to get a Bancroft Prize in American History?
I mean, is there a particular committee member around whose penis I should wrap my lips, or should I just blow the whole lot of them, sucking and slurping phalluses like a Singapore whore?
My research for Taft was painstaking and exhaustive. In addition to studying archival documents from the Taft Presidential Library, I unearthed as many new sources as I could, going door-to-door in an effort to track down descendants who might have letters, photos, or any other personal artifacts that could potentially shed new light on his life. In late 1999, I spent three months devoted exclusively to researching Taft's 1890–91 stint as solicitor-general under President Benjamin Harrison. Apparently, though, that wasn't enough. I guess it's time for some feverish cock-gobbling.
G/O Media may get a commission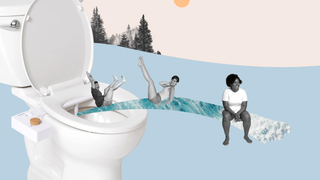 17% off
Tushy 3.0 Warm Water Spa Bidet Attachment
Maybe if I'd dressed up all sexy and shook my ass like David McCullough did when he won for John Adams, I'd have had the Bancroft people eating out of my hand.
Lest you think otherwise, let me make it clear that this is not about the $4,000 cash award. This has nothing to do with money. This is about recognition for what I know in my heart was a meticulously researched, passionately written book on a subject sorely deserving of attention. But I guess as far as the Bancroft Prize committee is concerned, that only matters if I'm slobbering on their knobs.
I guess I just needed to get on my knees before the committee in a display of inferiority to their alpha selves. Then, each male committee member could have unzipped his pants and roughly thrust his skinflute into my mouth before pulling out and covering me in a thick coat of love snot. Maybe then I would've been in the running for that prestigious award.
You can't tell me David Nasaw didn't choke on a few throbbing Johnsons to win the prize for his Hearst biography. I mean, how else could such sloppy, uninspired prose on such a painfully obvious subject win? Please. And Philip D. Morgan? There's no question in my mind that he boarded the dick-smoking train to Bancroft Prizeville, a ticket he paid for with gallons of Tijuana toothpaste.
It's not like I didn't try to play the game a little bit. I sent out holiday cards to every member of the committee along with a complimentary copy of Taft. Maybe if I'd also attached a note reading "Good for one free blow job," I'd have gotten somewhere.
Will somebody please explain to me why I even bothered putting 84 months into this book when instead I could have scrawled "Taft was awesome" on a scrap of paper and then spent a few hours deep-throating the committee chair?
For my next project, the most ambitious biography of Boss Tweed ever undertaken, I'll know how to play the game. Instead of tireless research and countless rewrites, I'll limber up my lips and suck off everyone in the entire academic community. Then, at long last, the Bancroft Prize in American History will be mine.