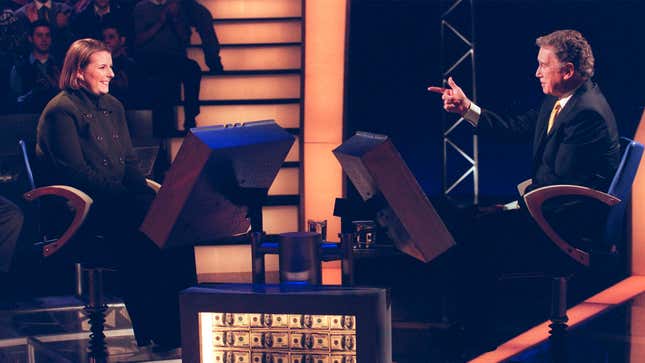 August 16 marks 20 years since Who Wants To Be A Millionaire debuted in the U.S. as the first game show in the country with a million-dollar prize, ultimately running for 20 seasons before its cancelation in May. The Onion looks back at the greatest moments in the program's 20-year history.
---
1998:
Grand cash prize is changed to a round $1 million after focus groups react negatively to Who Wants To Win $972,000.

---
1999:
That guy won.
---
2000:
Paul Newman's Hole In The Wall Gang charity forced to shutter its doors after Norm Macdonald fails to secure additional $500,000 in funding during celebrity game.
---
2003:
A visibly nervous, sweating Regis Philbin asks ad-libbed question "What should you do after hitting a pedestrian with your car?"
---
2006:
Lifeline allowing contestants to sell soul to demon to gain sum total of human knowledge removed from program.
---
2008:
Dad wants to know if tuna sandwich with fries is your final answer.
---
2010:
The phone a friend lifeline phased out as new widespread availability of hardcover encyclopedias allows for rampant cheating.
---
2012:
Show pays out its top prize to date when Kentucky electrician Dwayne O'Malley wins $200.
---
2019:
Million dollars not actually worth that much anymore.
---
2028:
ABC due to relaunch show as nostalgic cash grab sometime around here.