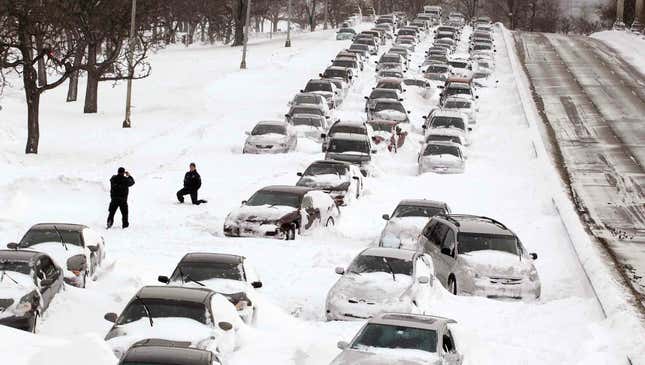 The central and eastern parts of the United States are currently suffering through one of the coldest winters on record, with the so-called polar vortex returning yet again this week to the Midwest and Northeast. Here are The Onion's answers to readers' most common questions about this year's unusual and bitterly cold winter:
How does this year's cold weather affect me?
For the 20 seconds every day that you aren't in a heated shelter staring into a computer screen, you will be slightly uncomfortable.
This Week's Most Viral News: September 29, 2023
Why does it seem like this winter is so much longer than most years?
Our collective acceptance of time as an ordered, unilinear sequence of chronological events constrains us from ever fully experiencing the subjective nature of temporal perception.
Does the inclement weather have anything to do with global warming?
No one's looked into it yet.
Would this winter be easier to endure if I had a significant other to spend the cold nights with—cooking, listening to music together, sipping hot cocoa, and watching old movies, that sort of thing?
Yes.
How many people totally ate it while walking on a slick sidewalk this winter?
Only you, and everyone saw.
What are snowflakes made of, Daddy?
They're made of ice, which is frozen water. Oh, my beautiful baby boy. I love you, Joshua. I love you so much.
How many more winters are left?
Twelve.
Which part of the body is most important to keep warm?
The trunk and tusks.
What are the lyrics to the 'National Song For Warming Up' this year?
♫ Gather one / Gather all / Huddle in a big warm ball
Stomp your feet / Jump and shout / Move your body all about!
Build a fire / With your hands / And then make sure to fan, fan, fan! ♫
This harsh winter has been caused by the North Enchanter holding dominion over the winds of the ether plane. So to defeat him, we just need to summon a hearth witch, right?
Correct.
What's the coldest winter on record?
Hell, still ain't never seen anything colder than the winter of '73. Marcus finally faced down that stepfather of his, Cousin Wilbur damn near lost his whole leg while ice fishing, Sarah-Jane lost the baby, and me, well, it seemed like this big blue marble had other plans for me.
I've heard a lot about this winter, but I forgot to renew my winter subscription. Can I re-subscribe to the season online, or do I have to call a winter representative?
You can renew your winter subscription online at www.mywinter.com.
Who are you?
I am Professor Snowflake.
What is the best way to deal with this world's cold?
You just have to keep carrying the flame inside you. No matter how hard it gets to be, you carry that goddamn fire. It's a hard world. Life is hard. But no matter what, you carry that fire, and you don't let go.