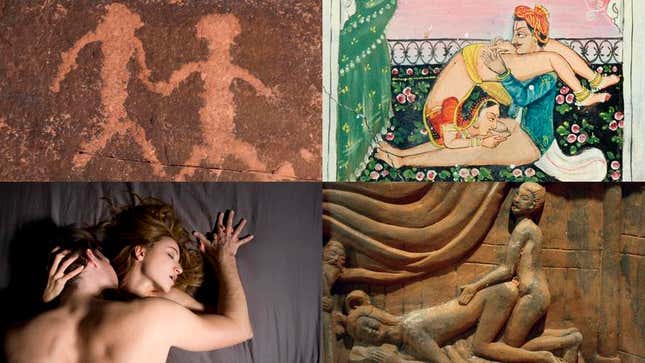 WASHINGTON—Following the recent revelation that former CIA director David Petraeus conducted a protracted extramarital affair with his biographer Paula Broadwell, sources confirmed today that the far-reaching scandal has widened to reveal that mankind, otherwise known as the species Homo sapiens, has been engaging in sexual intercourse for the past 200,000 years.
This Week's Most Viral News: September 29, 2023
"While the situation appeared at first to be limited to this one sexual relationship between Gen. Petraeus and Ms. Broadwell, we see now that it is far more extensive than we had initially believed," said an FBI official who spoke on condition of anonymity due to the ongoing investigation. "Indeed, evidence shows Gen. Petraeus is, in fact, just one of literally billions of human beings who we now believe have on numerous occasions engaged in sexual intercourse over the last several hundred millennia."
"No matter how far back we go, we just continue to find more and more corroborating proof of people having sex," the official added. "There's simply no end in sight."
Officials were reportedly first alerted to the allegations after the discovery of thousands of documents this week, including e-mails, letters, and photographs, which led them to believe that millions of other people beyond Gen. Petraeus have been having sex since perhaps the middle Paleolithic period, and continue to have sex today in various partnerships and in all 196 countries worldwide.
A further investigation into the matter then revealed not only that people have been frequently engaging in sex throughout modern history, but also that they have been doing so at least since the first precursors to modern humans gained the ability to walk upright, and that sexual intercourse is a natural biological function that may indeed be widespread and prevalent throughout all human eras.
"The scope of this scandal is simply astonishing—there is currently enough evidence to implicate individuals from every part of the world, even dating back before the creation of modern international states," said one source close to the investigation, adding that the FBI has collected millions of first-person accounts of people who have either had sex themselves or witnessed others performing sexual acts. "There are even thousands of hours of video evidence that cyber-security experts in D.C. and Langley have managed to find on the Internet."
"The real question is, 'Who knew about this? And for how long?'" the anonymous source added.
According to reports, a comprehensive global probe jointly conducted by the FBI and CIA also revealed that, in addition to Gen. Petraeus, others alleged to have had sex in the past include Leon Panetta, Condoleezza Rice, Ben Bernanke, George Stephanopoulos, John Lennon, Charlotte Brontë, Jack Nicholson, William Shakespeare, Andre Agassi, Plato, Ulysses S. Grant, Queen Elizabeth II, Ted Avery of Dayton, OH, George Washington, Karen Avery of Dayton, OH, every past and present member of the band Chicago, Sir Isaac Newton, Bill Gates, Andie MacDowell, Benjamin Franklin, Leonardo da Vinci, Vince Lombardi, and Adolf Hitler.
"A closer look at the evidence indicates that even the earliest primates engaged in acts of sexual intercourse," said Dr. Jacob Reynolds, a historian at the University of North Carolina. "We have even discovered lewd depictions engraved on stone tablets dating all the way back to 10,000 BC in what is now modern-day Turkey. But it is very possible that this controversy stretches back farther than any of our historical records."
Reynolds confirmed that in addition to human beings, many well-known animals are also thought to have engaged in sexual activity, including millions of bears, sheep, goats, and even numerous fish and insect species.
Furthermore, sources indicated that sexual activity may extend all the way to the White House.
While the full extent of the investigation is not known at this time, sources said the FBI will likely continue looking into the matter until "everyone and everything involved in this matter is brought to light."
At press time, officials estimated that roughly 15,000 human beings are having sex at this exact moment.