SEATTLE—The unattached, freewheeling, consequence-free years following Frank Anderton's graduation from college are being spent in "one of the coolest offices in all of Seattle," the 24-year-old reported Tuesday.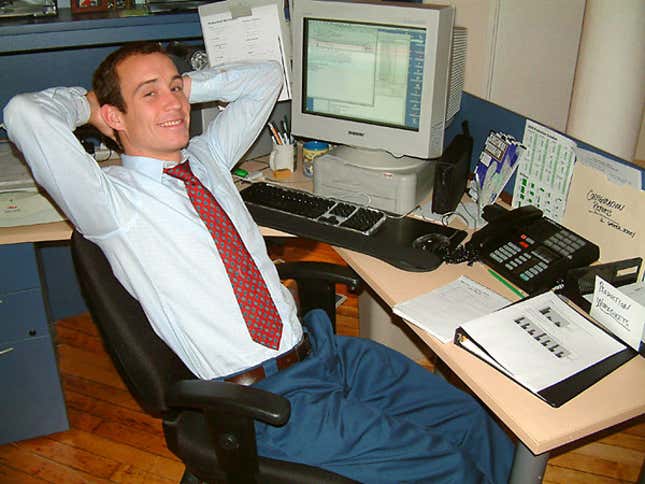 CDC Issues Dire Warning That Nick Cannon Is Feeling Horny
"Man, it's the greatest feeling in the world, knowing that I could do anything right now," Anderton said, sitting at his desk at 8:30 p.m. Friday. "I don't have any kids to worry about or a mortgage to pay. If I wanted to pick up and backpack through Europe, I could leave in two weeks, no questions asked. Of course, that would set me back a little, career-wise."
Anderton was hired directly out of college by Walsh & Billings, a high-profile Seattle advertising firm, where he has worked more than 60 hours per week for the past 68 weeks.
"The world is my oyster," said Anderton, who has been single but not actively dating for all of his post-college life. "Not to brag, but I'm doing pretty well. I've got a great apartment all to myself, I'm in good shape, and I've been dressing a lot better. When my sister visited me last month, she told me I was shaping up to be quite a catch."
Anderton explained that the burdens of close personal relationships do not tie him down.
"Nobody tells me what to do or when to do it—other than my bosses, of course," said Anderton, who recently cancelled his Netflix subscription after letting his first three DVDs sit on his dining-room table unwatched for nine weeks. "The other junior account execs are always complaining about their kids and their wives. Not me. I'm completely free to stay at work as long as I want. Hell, I can even come in weekends without someone getting on my case, like Mom always used to with Dad."
Even though he's only two years out of college, Anderton has already had the opportunity to work as an assistant print supervisor on such high-profile accounts as Compaq and Canon. His willingness to work long hours, even on weekends and holidays, has not gone unnoticed by his superiors at work.
"He's a real go-getter, that's for sure," said Tim Bradley, the senior brand strategist on the Canon account. "When I was his age, I was totally lost. I was working dead-end jobs and blowing paycheck after paycheck on partying. It wasn't until I was pushing 30 that I got my act together and started climbing the ladder. It's cool that Frank's got his eyes set on a corner office at 24."
Anderton, who majored in communications at the University Of Washington, has already received a 5 percent raise at work.
"I used to have to think about every concert ticket or restaurant meal I bought, but now that I have a salary, I can do whatever I want," said Anderton, who puts nearly all of his $500 entertainment budget into savings each month. "If I don't have time to cook, which I never do, I just order Chinese. I got an awesome flat-screen TV for my bedroom, so a lot of times I just sit on my bed or at my desk and eat while I watch television."
Anderton's 32-year-old brother Josh, who recently became a regional sales manager for Microsoft's enterprise server line, described his sibling's position as "the best of both worlds."
"On the one hand, he's got the freedom to do whatever he wants, and on the other, he's got a really solid five-year plan all mapped out," Josh said. "He's got such potential and such liberty, but he also has the wisdom to know that night after night of meaningless sex with women you meet while going out and having fun with your friends is really pretty hollow in the end."
Anderton said he hopes his quick success at Walsh & Billings doesn't cause problems with his coworkers.
"I don't want the other guys at work to envy me because I've got my whole life ahead of me," Anderton said. "I can tell that they're getting burnt out. They practically have to drag themselves into work after the weekend. But I come in each morning, fresh and ready to start another day. Just imagine where I'll be by the time I'm their age."
"Yeah, I'm going to remember these years forever," Anderton continued. "I get to live in Seattle, I have my own super-sweet computer at work, and, since I don't have to get to the office until 10 a.m., I could theoretically stay out past midnight."