SANTA BARBARA, CA—Several cities in Southern California were placed under a state of high alert early Tuesday after a large and markedly destructive wildman began sweeping through Santa Barbara County, sources confirmed.
Thus far, some 4,000 residents have reportedly been ordered to evacuate, and officials expect the wildman to chase an additional 8,000 people from their homes within the next 24 to 48 hours.
Authorities warned that the wildman is exhibiting extremely unpredictable behavior and is categorized by incredible speed and devastating intensity.
"The wildman initially started in the northeast portion of Los Padres National Forest at about 10:15 a.m. and has since quickly torn across hundreds of acres of land," said California Department of Forestry spokesman Jacob Richardson, adding that this is by far the biggest wildman the region has seen in years. "Our primary concern right now is keeping the wildman away from houses and heavily populated areas. We're doing our best, but he's just moving too fast through the brush."
"Unfortunately, the wildman is showing no signs of calming," Richardson continued. "And the 20 mph winds are only helping him move faster and more erratically."
G/O Media may get a commission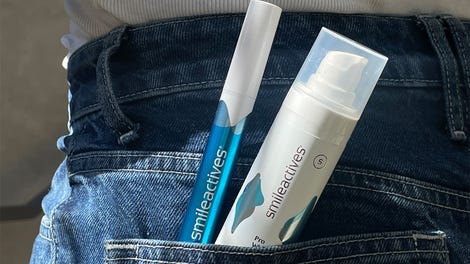 58% off
Whitening Powerhouse Pen & Gel Duo
According to Richardson, containment crews and a fleet of 15 helicopters have been working around the clock to keep the wildman at bay, but early attempts at digging trenches and dumping thousands of gallons of cold water from air tankers have yet to slow his progress.
More than 2,000 homes are currently under threat, but thus far none are said to have been destroyed. However, sources indicated that 15 houses have been damaged and dozens of backyards have reportedly been left in complete ruin.
Richardson told reporters that any residents who have chosen not to evacuate should seriously reconsider their decision.
"The wildman has already consumed vast expanses of vegetation, has decimated several farms and herds of cattle, and will only continue wreaking havoc across the state until we get everything under control," said Richardson, warning that the wildman shows no signs of letting up during the night and could continue to rage "for days, possibly even weeks." "There's no telling how long this will continue or how many areas of Southern California will ultimately be affected, so the best course of action is seeking shelter as far away as possible."
"But if you absolutely insist on staying, please keep in mind that being on higher ground does not necessarily guarantee your safety," Richardson added. "I've seen this wildman climb 200-foot-tall redwood trees in a matter of seconds. He's fucking nuts."
Reports confirmed that this is the third wildman to sweep through the region in the last four months, with the others having already caused an estimated $2.8 million in damage. Officials have yet to speculate as to what set off this particular wildman, but residents of surrounding cities expressed their frustration about the frequent number of wildmen cropping up every summer.
"This is a wonderful place to live, but seeing a destructive, out-of-control wildman tear through the brush every July or August is getting to be too much," said 47-year-old Santa Barbara resident Jennifer Maycroft, adding that she has repeatedly considered moving her family to an area of cooler temperatures and less arid conditions, which are at a far lower risk of wildmen. "We had to evacuate last year when a wildman came through here, and when we came back, our deck was totally destroyed."
"There were teeth marks all over the house, too," she added.
At press time, officials were scrambling to contain the situation after the wildman unexpectedly changed course and began heading southwest in the direction of nearby Santa Paula.