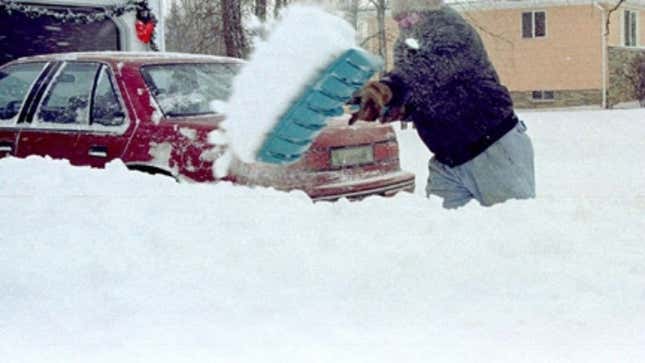 Winter, the season of sledding and snowmen, can be lots of fun—if you prepare in advance. Here are some tips on getting ready for the cold:
If your heat is turned off, remember: In a pinch you can cut open your fat spouse and sleep in his/her 98.6° abdominal cavity.
Use phrases like "I love you" and "You are special to me" to create warm feelings in home.
Check anti-freeze level if ice build-up becomes a problem in beverages.
Be sure to caulk all drafty orifices.
This winter, heat things up with "Red-Hot Friday Late-Nites" on Cinemax.
Encase your car battery in a warm glow of positive reinforcement by visualizing it bathed in a nurturing, healing light.
If absolutely necessary, it is considered acceptable to slay and eat your dogsled team.
Heat comes from fire; make sure your house is made of materials that burn.
Cover your home stereo system with weather-resistant tape—this will prevent Old Man Edgar Winter from gaining a foothold.
Grow thick layer of fur on body.
Cover tongue with special Gore-Tex sock before tasting icy metal poles.
Enjoy a hot beverage from time to time.
If flying above the Andes Mountains this winter season, bring along plenty of extra Paraguayan soccer players "just in case."
Plug up crevices of house with mixture of sheep dung and straw.
Save fatty parts of whales and seals to use as fuel.
Master the art of hibernation by developing an enzyme that breaks down urea and other potentially poisonous chemicals created by the body during dormancy.
This Week's Most Viral News: September 29, 2023